Zuma Scooters Ealing
Scooters are an eco-friendly, cost-saving mode of transportation that many people are turning to as an alternative to owning a car. Below you'll find related articles as well as local companies and providers that will help you in your search for Zuma scooters.
---
Get Bike
0208 3263366
226 Northfield Avenue
London
Motorbike Warehouse (Uk) Ltd
0208 385 0566
164 Watford Road
Wembley
Harry Nash Motorcycles And Scooters
0208 7482837
391 King Street
Hammersmith
Harry Nash (Hogarth)
0208 748 2837
391 King Street
London
Scootercity (Wembley) Ltd
0208 9041345
18 Grand Parade Forty Avenue
Wembley
Chiswick Honda
020 8996 8100
4 Power Road
Chiswick
Bmg Motorcycles
0208 878 8121
416 Upper Richmond Road West
London
Centro London Ltd
0208 830 1000
46
London
Scooter City (Wembley) Limited
020 8904 1345
18 Grand Parade,Forty Avenue
Wembley
Bmg Scooters (Richmond)
020 8878 8121
416 Upper Richmond Road West
London
Zuma 125
Tuesday, 10 June 2008 10:42
Zuma 125
Yamaha Zuma 125cc
Yamaha have added a big brother to the staple 50cc Zuma for the USA 2009 model year. The 125cc version is very much a progression from the 50cc model. The twin headlamps remain which can only be a good
thing. A more visible tubular steel frame has been added along with brush guards on the handle bars. This particular addition strikes me as somewhat peculiar... I could be wrong but how likely is anyone to go on some sort of off road adventure on a 125cc scooter... really! More than likely they will just get in the way as is the case with the ones on the PGO PMX.
This will I imagine be a good seller for Yamaha, with the reputation already built by it's 50cc sibling the somewhat unusual styling is now more common place and the 4 stroke engine should provide reasonable economy. Good on Yamaha for releasing a 125cc bike for the US market... It will be interesting to see how it fares against the likes of the Genuine Buddy 125 et al.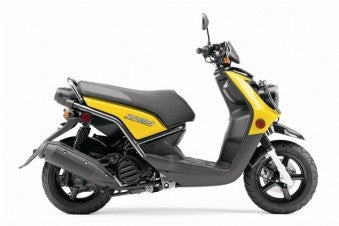 Click here to read the rest of this article from The Scooter Review