ZEV Scooters Glasgow
Scooters are an eco-friendly, cost-saving mode of transportation that many people are turning to as an alternative to owning a car. Read through the following articles to learn more about ZEV scooters and find local companies and providers who can help you find what you're looking for.
---
Mickey Oates Motorcycles
0141 332 7374
19 North Canalbank Street
Glasgow
Atv Adventure Xtreme Ltd
08456 444900
100 Union Street
Glasgow
Avuss
0141 848 5775
Greenhill Business Park, Greenhill
Paisley
Gordon Agri Scotland Ltd
01360 661001
Near Glasgow
Croftamie
Kypeside Country Capers Ltd
01357 523834
Kypeside Farm
Lesmahagow
Victor Devine & Co
0141 225 8100
60 Hydepark Street
Glasgow
Moto Ecosse Ltd
0141 641 1199
16 Flemington Industrial Estate,Hamilton Raod
Glasgow
Moto Ecosse
0141 641 1199
13-16 Flemington Industrial Estate
Glasgow
Robert Campbell
01357 440316 / 07767 636 375
Strathaven
Ryelands
John D Yuille Atv Services
0845 4563846
The Aberdeenshire Centre Site 9 Huntly Ind Est Clashmach View
Huntly
ZEV7000
Tuesday, 20 April 2010 23:28
FASTEST PRODUCTION SCOOTER IN THE WORLD! Aparently
Article Index
FASTEST PRODUCTION SCOOTER IN THE WORLD! Aparently
ZEV 7000 pg 2
All Pages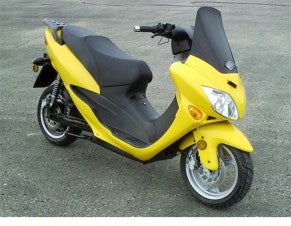 First of all I have to apologise for all the electric scooter news at the moment, but this is what appears to the happening thing in the industry at the moment. So anyway, "the fastest production in the world" is the very bold claim that is being made by ZEV about their ZEV7000 electric scoot. Now there is a LOT of very brash posturing on their website .
Their main selling point, relevant to this "fastest" business is that they are faster than the Vectrix (Bramo and Zero get mentions too) machines... now I don't know about you but I wouldn't be telling people to "bring their street legal production bike and to bring their betting money" if my max speed was a MASSIVE 2mph difference 68 for the Vectrix (although it does say 100kph which is 60mph.... who knows? either way all tests point to around 110kph which sounds about right) and 70 for the ZEV! Generally speaking not many people claim the "actual" top speed in their literature, anyway I would love to test them head to head.
There are some definite pro's for the Zev however, the first is the price, at around 7 grand (American Money) which is noticeably less than the faster/bigger of the Vectrix models. The one that stands out to me though is the weight which is 134kg vs 200 odd for the Vectrix. The other number that stands out is the torque figure of 184nm which combined with 14kw "launch power" should provide some entertainment in the traffic light grand prix.
All in all it does look like a pretty good piece of kit, Lithium Ion batteries, Large oil cooled motor, decent range and charge times plus acceptable(ish) price adds up to a pretty good commuting machine I just question the claims and the way they are going about it, i would love to see a track battle between the bikes they are "dissing" Bramo, Zero, Vectrix et al... come on boys, less talk more action... give them all to us if you like, impartial track battle on!
Page two has all the info supplied on the ZEV WEBSITE
7 Kw (7000 WATTS) OF CONTINUOUS OUTPUT POWER 8 Kw (8000 WATTS) of peak power. 14 KW launch or standing start power

Zev has had it with all of the claims by various companies that they have the fastest street legal production bike around. We tell them to bring their street legal production bike and to bring their betting money. There can be only one "fastest" street legal production electric motor scooter or bike in the world.

Designed to be a commuter bike, the ZEV7000 will run +113 kmph / 70 mph speeds. Take it out on the highway and run. Punch the shift button for the power boost into second and third as you go up through the "gears" on our "Electronic Transmission" and feel the power roll on.

Cruising at at less than all out speeds this bike has yielde...
Click here to read the rest of this article from The Scooter Review