Yamaha Scooters Preston
Scooters are an eco-friendly, cost-saving mode of transportation that many people are turning to as an alternative to owning a car. Here you'll find additional information on Yamaha scooters as well as local companies and providers that may help you in your search.
---
Bodylines
01772 561177
Quicktrack Ltd T/A Autograph House Frank Street
Preston
Buzzinmotos
01772 739700
Scooter Centre, Blanche Street
Ashton-On-Ribble, Preston
Preston Superbikes
01772 727 213
42
Preston
Blackburn Cycle And Scooter Centre
01254 675181
31 Northgate

Philip Youles Motorcycles
01254 277 120
Pendle Street
Blackburn
Freedom Bikes
01772 822885
2.11A,
Preston
Shorrock Motorcycles
01772 744392
82-86 Leyland Road
Penwortham
Rgm (Roy Gardner Motorcycles)
01772 603781
Unit 17 Twin Lakes Industrial Park Bretherton Road
Crosston
Blackburn Cycle & Scooter Centre
01254 675181
31 Northgate
Blackburn
Rocket Centre
01254 297810
3 Trident Way
Blackburn
Yamaha Cygnus X125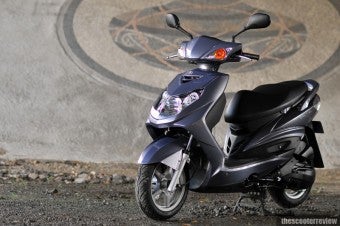 The Swan like Cygnus X 125 is not your traditional scooter, sophisticated with clean compact lines. Cygnus exudes a stylish self-confidence that you might only expect to find in a more expensive, large capacity scooter… According to the Yamaha press release at least. The name is apparently derived from the Latin word for Swan and Yamaha swear it looks like one…if you screw your eyes closed and stare at/through it like those "Magic Eye" images from the '90's you can just about make out the profile of a Swan in the Cygnus…
I'm not sure why Yamaha keep talking about Swans… the fact of the matter is that the Cygnus really is a very good-looking scooter… scooter, not large, graceful bird.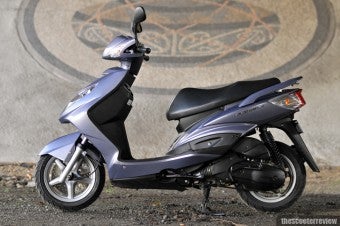 The styling isn't in your face sporty or a throwback to the 60's. Yamaha have clearly tried to put together a contemporary but classic style and they have succeeded. The overall sense is of simple elegance… The Cygnus is well built with quality materials and features virtually everything you need from a modern scooter. Yamaha have moved the fuel tank to the front of the bike leaving enough space under the seat for a full-face helmet (size small sans too many vents) and some wet weather gear or whatever else it is you wish to carry. This trend toward nearly dual helmet storage area is one I hope continues and expands. I realize there is only so far the manufacturers can go while retaining a useable seat height but the precedent has now been set and storage volume can only improve further.
Click here to read the rest of this article from The Scooter Review
Yamaha TMAX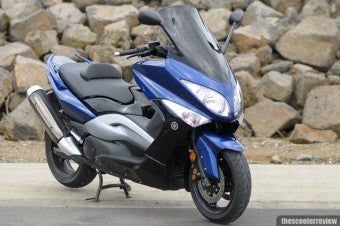 For as long as I can remember (about four minutes on most days) the Yamaha T-Max has been the sports orientated maxi scooter of choice. In fact, it's really been the only choice as it hasn't had a direct competitor other than Gilera's Nexus 500ie. Things have changed with the introduction of the new Gilera GP800 and the T-Max has suddenly found itself in the position of having to play catch-up. There's been a lot of talk on-line and even in our own comments section about the various merits of both bikes. I've not been able to offer a definitive opinion of my own as I simply hadn't ridden the latest T-Max in anger. I have now…so I'll unleash my rather vivacious opinion.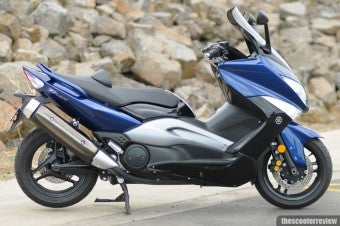 I'd got sick of people telling me the T-Max was better at all manner of things than other maxi scooters and like the normal human reaction, I'd gone a bit negative because of it. Well I was wrong. The T-Max is a superb maxi scooter; in fact I'd say it sets the benchmark in most performance categories. First off the T-Max is lighter than most of its direct competitors. At 203kg (447lbs) it's 13kg (28lbs) lighter that the Gilera Nexus 500ie, 15kg (33lbs) less than the Honda Silver Wing, 32kg (70lbs) lighter than the Gilera Gp800 and a massive 35kg (77lbs lighter than the bulbous Suzuki Burgman 650). It's this light weight that immediately hands the T-Max an advantage in the handling department.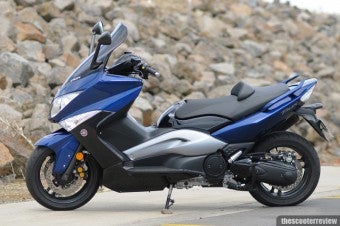 In direct comparison the T-Max feels more nimble, changes direction faster, and generally allows you to ride more aggressively than its competitors. It's not just the lighter weight that gives the T-Max superior handling, it's also the product of a well engineered cast aluminum frame that leaves other scooters looking a little on the wobbly side. Now add the best set of brakes of any maxi scooter available and you have a recipe for success. The motorcycle derived four piston monobloc brakes on the 2008 T-Max are reassuringly firm, offer plenty of power and superb feedback. The Gilera GP800 and Nexus also have superb brakes but the Yamaha just manages to take them with its superior set-up. Suspension wise the Yamaha T-Max seems about perfect for most conditions. Surprisingly the T-Max doesn't offer the kind of adjustability that Gilera offer in the Nexus and GP800 but for most people this won't be an issue. Very lightweight or heavier riders would probably prefer to be able to customize the suspension to their weight. The Gilera GP800 offers the best adjustability but it's hardly a deal breaker. In early 2009 we're running a massive week long maxi scooter comparison test and we'll be able to get a better idea of which bikes suspension set-up is the best.


I'll move on to the bad bits. Yes the T-Max is a wonderful scooter, yes it handles the best, and yes it runs the best set of brakes. Sadly the engine is a let down. I imagine many years ago a 32kw (43hp) engine was good. Ahh no…a 500cc engine making only 43hp was crap back in 1990, hell 250cc motorcycles were makin...
Click here to read the rest of this article from The Scooter Review
Yamaha Vino XC50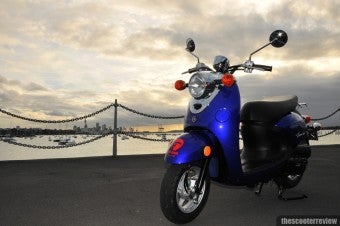 Sometimes, the decision of which 50cc scooter to buy is an emotive rather than logic driven procedure. The problems arise when there are many choices and most of them fit the list of necessary criteria. What are those criteria… 50cc engine, small, and lightweight, frugal? Check, check, check and check… so what does the choice boil down to then?
Design! It really always comes to this in the end, and that is why Yamaha sell the Vino. The little Vino was the Pimp Daddy of our 50cc Super Battle it has plenty of chrome and is literally dripping style.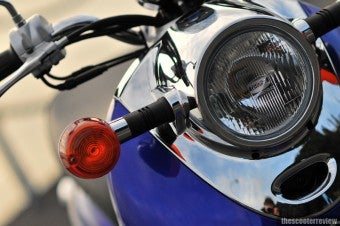 The Vino is probably the most well known of the retro style Japanese scooters available today. It really does blow the competition away in this particular genre, it manages retro without looking dated and that is far from an easy balance to achieve. Further to this it is built incredibly well right down to beautiful paint in your choice of blue or white. Details like the big cushy seat add both to the overall aesthetic and to the comfort of the ride. Further to this there are the obvious details that hark back to scooters from the '50's and '60's such as the huge chrome headlight and the indicator housings and mirrors.
Click here to read the rest of this article from The Scooter Review