Vespa Scooters Mitcham
Scooters are an eco-friendly, cost-saving mode of transportation that many people are turning to as an alternative to owning a car. Below you'll find related articles as well as local companies and providers that will help you in your search for Vespa scooters.
---
Lamba Motorcycles
0208 647 4851
118-132 High Street
Carshalton
Ewell Motorcycles And Scooter Centre Ltd
0208 786 7161
6-7 Castle Parade,Ewell By Pass
Epsom
Tamara Cycles
20 Upper Green East
Mitcham
John's of Romford Ltd.
01708-726048
46-52 London Road
Romford
Two Wheels Ahead
0208 681 5050
173 Brighton Road
Croydon
Bmg Scooters (Fulham)
0207 736 0770
96 New Kings Road
London
Hartgate Motor Cycles Ltd.
020-86408862
18-24 Upper Green East
Mitcham
Hyside Motorcycle Breakers
01708-763360
122 Collier Row Road
Romford
Vespa GTS 300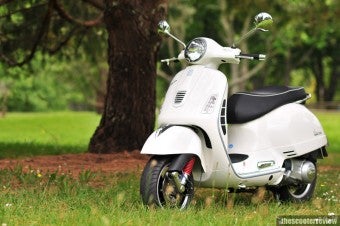 Being cool is somewhat complicated. See if you were Fonzi you were cool, however...times change. If you were to continue wearing a leather jacket and saying "Aaaaayyyyyy" while sticking your thumb up to every random person you met in 2009 you probably wouldn't be considered cool. You'd probably be considered what is commonly known as a "Twat". The message here is simple, in order to continue being at the peak at of coolness one needs to continually be aware of the changing state of cool. Hell, even the word cool goes in and out of being cool. Weird.
There is something that transcends this problem. It's called a Vespa. Think about it. Now I know scooters aren't considered the coolest things in the world, fair enough. But…the Italian Vespa has been cool for an awfully long time. Seriously, they don't look all that different nowadays and pretty much do the same job and provided you wear the appropriate clothing and don't talk like a nerd, you too can actually look quite cool riding a Vespa.

This brings me to the GTS 300 Super, currently it's the coolest Vespa. Now I realize it's a bit chunky looking, I know the Vespa S 125 is a nicer looking bike but…the 300 is; a 300. (Actually it's only a 278cc, but that ruins my gag) When you're cruising comfortably along the freeway at 70mph you'll understand why a 300 is cooler than a 125.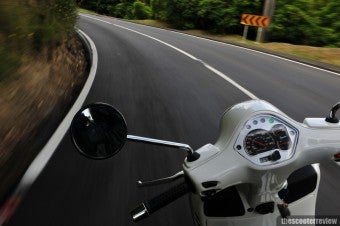 This review could have been as simple as a one liner. It's a GTS 250 with some new plastic bits and a slightly bigger engine, end of review. Essentially that's what we have here. Vespa have taken the very successful GTS 250 and added a slightly more powerful motor…and I mean slightly. The 250 made 21hp and the 300 makes 22hp. That seems a bit like a joke. Why bother going to all the hassle of fitting a new engine if it only makes one extra horsepower. Well that is not the full story. The real benefit here is torque, the new 300 makes 22.3Nm at 5000 rpm. This is a fair amount more than the 250 and it's lower down the rev range. This means the 300 is faster off the mark and holds speed much easier up hills. Interestingly we've not tested a standard GTS 250, our test bike had modifications that made it considerably faster than standard. Well the 300 Super still beats it to 100kph (62MPH) by about half a second. A standard GTS 250 would be even further behind.
Click here to read the rest of this article from The Scooter Review
Vespa LX 50 2T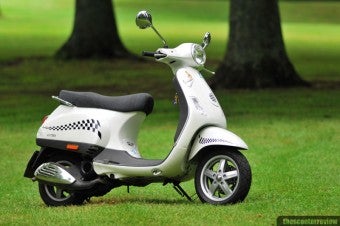 The Vespa LX 50 2T is one of the best selling scooters on earth, partly because it's a Vespa and partly because it's Vespa's entry level model. So why do so many people begin their scootering life on the LX? Well not being particularly loyal to any one brand I was always confused over some people's outright worship of the Vespa brand. I guess it's just how some people are, I've a few friends who are big Apple fans, they simply buy anything made by Apple. Apple could make a car with no roof; square wheels and a pack of hungry gerbils for an engine…my Apple friends would simply buy it. They wouldn't even test drive it, they'd buy it and defend it regardless of how terrible it was. "What? No the square wheels are fine, it's just a bit bumpy…oh the gerbils are cheap to feed...and look it's got a built in holder for my i-pod"
I went into this test thinking the Vespa would be something like the Apple car. All form and no function. Well…I was wrong. One hundred percent wrong. There's a reason people buy Vespa's and the LX is a good example. I'm not normally a 50cc scooter guy; I prefer the bigger and more powerful models. It's funny because I always thought it was because 50cc scooters were just too slow for me…it turns out it was something else. My 50cc experience was limited to the usual cheap or old Japanese models; most with high kms on the clock. I simple hadn't ridden a modern Italian 50cc scooter like the Vespa 50 LX. It's the quality…you feel it as soon as you get on, the bike is solid, the suspension is tight and contrary to what I'd read elsewhere on the web, the brakes are strong. Most entry level 50cc scooters feel like they are about to break the day you ride them out of the store. Not the LX; the demo I rode had nearly four thousand kms on the clock and it still felt brand new.
Click here to read the rest of this article from The Scooter Review
Vespa S 50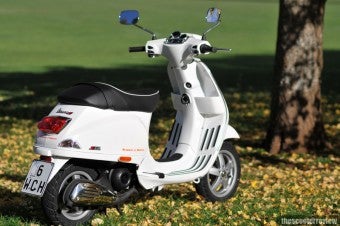 Now if you've read any of my 50cc reviews before you'll probably know that I'm not really a 50cc guy. Obviously some people love them. I can't see how anybody could love a 50cc machine after riding a larger cc scooter but, good for them I guess. See to me it seems rather idiotic that a government body somewhere on earth came up with an arbitrary number for engine size's and somehow most of the world has collectively agreed without giving any real thought as to how sensible this engine cc size actually is. Picture this; you live in Los Angeles, cars move quickly here, even on regular city streets. 50cc scooters simply aren't fast enough to keep up with normal traffic and certainly not when restricted. So why on earth is the engine size restriction 50cc in this territory? How about San Francisco; boy it must be a laugh going up some of those hills on a restricted 50cc four stroke.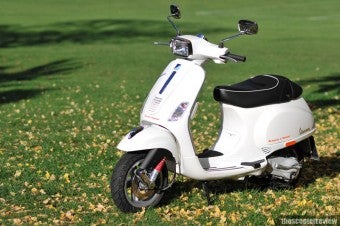 So why buy a 50cc scooter then? Well it's simple really; convenience. The idea goes that you can ride a 50cc scooter on a car license, so that removes the hassle of getting your motorcycle license. Some countries are actually run by people with brains and have separate laws for scooters and motorbikes so you can ride 125cc scooters etc on a car license. Next up however is the absolute priority number one reason most humans buy a 50cc scooter. Cost. A 50cc bike costs little to purchase, a tiny amount to run and normally a small amount to register each year.
Click here to read the rest of this article from The Scooter Review