Urban Scooters Greenwich
Scooters are an eco-friendly, cost-saving mode of transportation that many people are turning to as an alternative to owning a car. Read through the following articles to learn more about Urban scooters and find local companies and providers who can help you find what you're looking for.
---
Raceways
0207 237 6494
201-203 Lower Road
Surrey Quays
Scootech (Goldcore Engineering Ltd)
020 8983 4111
425-427 Roman Road,Bow
London
Motoden
0207 688 8888(Sales) 0207 688 8889(Serv)
41-49 Kingsland Road Islington
London
Motoden Suzuki
Sales: 0207 241 6363 Service: 0207 241 3333
507 Kingsland Road
London
Scootech-City
0207 404 3939
73 Clerkenwell Road
London
London Scooters Ltd
0207 378 1667
13 Crucifix Lane
London Bridge
Sterling Motorcycles
0208 2916 505
193/195A Stantead Road
Forest Hill
Aye Gee Motorcycles Ltd
0208 856 4273
211-219 Bellegrove Road
Welling
Metropolis (Greenwich)
020 8293 0095
150-152 Trafalgar Road,Greenwich
London
Metropolis M/C'S
0207 793 9313
62 Albert Embankment
London
Urban Bravo 150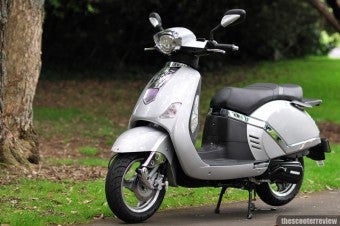 LuxoBarge… This is a term, derived from the words Luxury and Barge (large wallowing boat for transporting heavy stuff) usually reserved for large, European (or occasionally Japanese) sedans. They are big, heavy, super comfortable couches on wheels… well I am going to nominate the Urban Bravo 150 as the first LuxoScoot we have ever tested.
The test bike was one of a handful brought into the country as evaluation models for a potential production run by a local importer. We were very fortunate to get our hands on one, and have some input to changes that need to be made for the production model.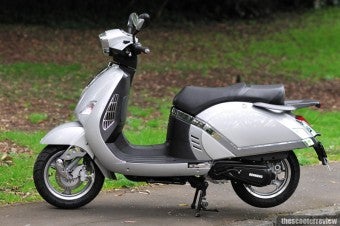 Lets start with the styling, the Bravo is very much a retro scooter with it's design obviously influenced by old Italian machines from Vespa or Lambretta, this is seldom a bad option as they are some of the most identifiable and desired scooters around. The Bravo is BIG, big and long yet somehow managing to be low slung at the same time… it is like some sort of Italian submarine on wheels. It really does cut a fairly imposing figure whether moving or parked.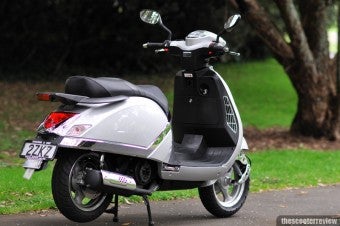 The LuxoBarge tag fits very well when we start talking about comfort; the seat is huge, wide and long with ample room for large behinds and pillion passengers. The wide seat does make it a little awkward for shorter people to get their feet down easily but with a bit of practice you can slide forward a bit and manage the procedure. The suspension is again set up with comfort rather than corner attack in mind, in fact don't try to attack any corners with too much vigour, especially left hand bends as the centre stand will scrape at a very gentle lean angle. This is not a real issue as the bike is very much a cruising machine… for this purpose it is an absolute joy to use.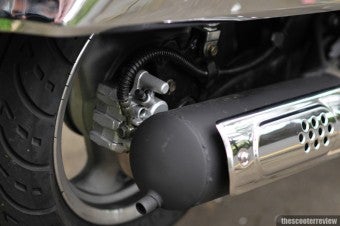 The engine and transmission combination is one of the smoothest I have ever used, it is not fast… it is however faster than it seems. The 150cc 4-stroke will gladly drag the heavy Bravo and a rider along the street without complaint and will tackle hills without missing a beat. Acceleration is brisk without being in any way blistering… as with every part of this bike it is achieved without any fuss or complaint. Then there are the brakes, I normally whinge and complain, so I must congratulate Urban for throwing discs front AND back... Thanks guys, I'm glad someone gets it! I thought it would take me a while to get the knack of riding this bike as my normal riding style is far from relaxed but I felt instant affinity with what was quickly nicknamed "The Whale". The mode of riding is simple, get on, turn throttle, ride… and ride… and ride, this is very much a machine that inspires wandering. You will be looking for excuses to find a new café to visit… preferably further from home just to sit on the Bravo a bit longer.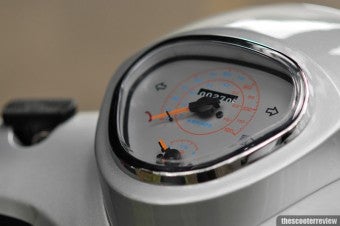 I mentioned that this was an evaluation model; as such not everything was perfect the inboard plastics were… well plasticy but those are being replaced with better quality material, the seat fab...
Click here to read the rest of this article from The Scooter Review
Urban R4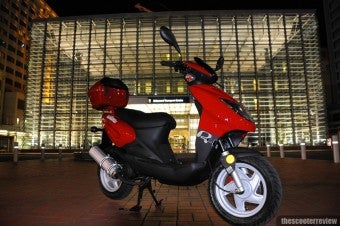 The more scooters I review the more I see trends develop. One trend I'm seeing is that 50cc scooters seem to be getting bigger. But not by sitting at home in their lazy-boy, relaxing, eating fried chicken, drinking beer, and watching the game. More, going to gym, pumping iron, getting a new shirt and some smart shoes. In the previous two decades every 50cc bike was tiny, it had little 10inch wheel, drum brakes, and little or no storage. Average European legs would hit the handle bars, and their rumps would hang out off the back of the seat while the rear shock collapsed under the massive strain. But now there is a new breed of scooter, the big framed 50cc scooters. As fuel prices increase so does the demand for fuel efficient vehicles that can comfortably carry your average western rider. So we have a new breed of 50cc bike and the Urban R4 is right there filling the exact needs of much of today's commuting population.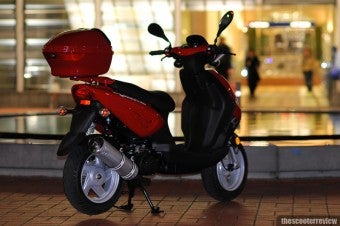 The Urban R4 sits high compared with many 50cc scooters, when riding in traffic it is easy to see over the cars in front. It has 12inch diameter wheels with wide tyres which give it a good solid feeling on the road. When riding, the large seat gives enough room to find the perfect riding positionand will even carry a pillion with ease, a minor point worth noting was that the seat was a little on the hard side for my liking. The R4 is full of features not normally found on a 50cc scooter, or in fact on any scooter. ABS on a 50cc scooter?! Yes.. Now I'm not sure how it works but it does seem to, There wasn't any sensor to be seen, so I can't imagine its the most high-tech system, but the ABS combined with the large wheels makes the Urban a really quick stopper.
Click here to read the rest of this article from The Scooter Review