Suzuki Scooters Preston
Scooters are an eco-friendly, cost-saving mode of transportation that many people are turning to as an alternative to owning a car. Continue reading to learn more about Suzuki scooters and get information on local companies and providers that will help you in your search.
---
Shorrock Motorcycles
01772 744392
82-86 Leyland Road
Penwortham
E.S.B. Motors
01204 535443
3 Marsden Road
Bolton
G H Motorcycles Ltd
01206 793605
Unit 1 Challenge Way Hythe Hill
Colchester
H Pigney & Son
01768 351240
Chapel Street
Appleby
Tillston Motorcycles
01642 611138
Stockton-On-Tees
The Rocket Centre
01254 297 810
Blackburn
Whitebirk Drive
Kais Suspension Services
01942 896366
Punchbowl Garage
Atherton
Fentons Of Bourne
01778 560466
Bourne
Thurlby
Des Helyar Motorcycles
0118-9700665
The Forge Garage Pamber Heath Road
Tadley
B&B Motorcycles
01522 545879
Greetwell Road
Lincoln
Suzuki AZ50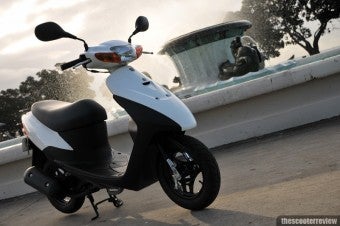 So, your empire has crumbled, your state of the art space battle station has been blown to kingdom come. You have to sell off what remains of your assets so you can purchase some nice corner lot on a virtually unknown planet in the Azphiddy quadrant to hide, regroup and plan your next endeavour. Should you make another attempt at ruling the galaxy… or should you just open that haberdashery that your mum always wanted you to?
You always were better with a sewing machine than a planet-killing laser! First however, the task at hand, selling off the remaining inventory… but who in the cosmos is going to buy 385,263 "Storm Trooper" uniforms? Then you have it! The perfect pitch… you meander off to Japan on the near forgotten planet "Earth" and talk to the design team at Suzuki. "Have I got a deal for you…!"
Now the smart chaps and chapettes at Suzuki saw something in the truckloads of Black and White plastic… they saw the new AZ50… they didn't, it would appear see a great name… they did however use the galactic army surplus to put together an interesting evolution of the humble 50cc scooter. Don't get me wrong the AZ is still a pretty humble device, but it has been modernised enough to make it look new, while retaining the "classic?" idea of what a Japanese 50 should look like. A shortening and rounding of the traditional "duck bill" front and the use of some good quality plastics (which may or may not deflect laser fire) come together to create a good looking update on the traditional design.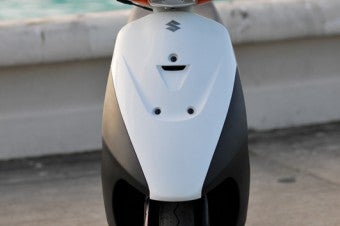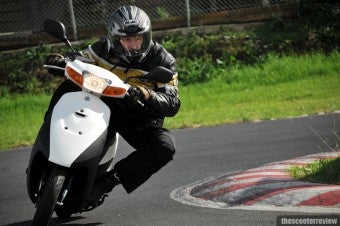 Now we got the new AZ50 from Suzuki for our 2008, 50cc comparison test, doing this meant that more so than in most reviews we got to ride it back to back with most of it's available competition. In a field of around 13 bikes it fared very well indeed. Along with the Suzuki Jog and the Vespa S 50 I rate it in the top 3 bikes of the test, at least in the "riding/performance" stakes. This is a very lightweight bike with a two-stroke engine and gearbox combination that is set up just right. The combination provides a tractability that is seldom found in a 50cc machine. Even with my superior weight, our de-restricted test bike had no problem trucking up most medium sized hills and was a dream on the flat. Acceleration was brisk and I never had to worry about being run down from behind if I nipped to the front of the queue at the traffic lights.
The handling was good; the suspension was quite soft but didn't bottom out as badly as many in its class do. The brakes were my first real concern; drums front and rear are not particularly awe-inspiring. That said however, they did pull the bike up effectively and I never had any heart in mouth moments. The problem with drums is more to do with service intervals than stopping power. Something that your life depends on shouldn't need to be adjusted at home every few weeks… the likelihood of the adjustment being done is slim… I am fairly mechanically minded and I seldom get around to doing it. This is downrig...
Click here to read the rest of this article from The Scooter Review
Suzuki TR50 Street Magic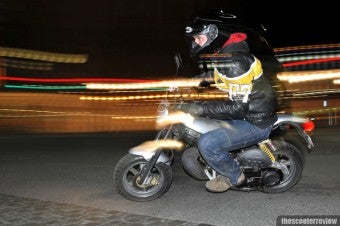 It had finally come; it had been building for a long long time…years actually. My first ride on a Street Magic, yep all this time and I'd never ridden one. Literally everybody I know or have every met has told me I should ride one. See I'm a relatively destructive person, when a lot of people give me the same good advice I simply ignore it and do the complete opposite. That's what happened here, I was like "Screw you, I don't care if it's the coolest thing in the known universe, I don't want to ride it" Well I'll admit it here, right now…man I wish I'd taken this advice earlier. I'd have been having CRAZY TIME all these years…then again I'd probably be very dead too.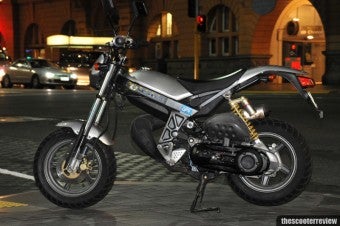 CRAZY TIME; this is what I call it. See Suzuki knew it all along when they made this bike…they knew the secret. Magic, no s%$t this bike has magic powers; it easily converts a normal sane person into a complete and utter maniac. Interestingly if you're already a complete maniac you just stay about the same but grin a lot more…go figure, it's obviously a complex magical spell. Crazy time started for me about 16.3 seconds after I drove away from picking the Street Magic up. See that's the amount of time the traffic lights took to change, the second they went green I unleashed the BEAST.
Everything became fair game…I began by blasting down a hill then jumping onto the sidewalk and passing every car in the known universe in one fowl swoop. I screamed inside my helmet in sheer pleasure. This caused the damn thing to fog up and sent me flying through an intersection completely blind. When the visor cleared I found myself bashing my way through a women's lingerie store; bra's and panties strewn all over me and laughing like a school boy I burst out the rear entrance and head madly towards the center of town. This is when the fuzz pulled in behind me…no chance; I cut a hard right and head straight into the park. The police car gave chase as I rushed across the fields dodging and weaving around a startled cricket team. I'm not sure what was funnier, the police car chasing a scooter through the park or the fact the scooter was covered in wildly flapping lingerie and on the back was a very cute partially dressed girl I picked up in the store…I work real quick…I pulled a massive jump over 65 stairs and left the police stuck watching my smoke trail from the stairs. Okay, okay…it was only 6 stairs but everything else is true, really. The girls name is Jenna, we're married now and have twins on the way, Magic and The Fuzz…
Click here to read the rest of this article from The Scooter Review
Suzuki UZ125 Address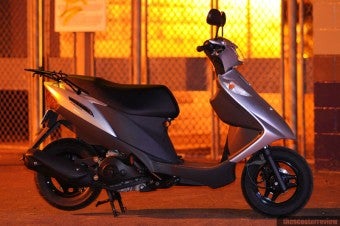 The UZ125 Address? What kind of name is that, who's address is it? Mine, someone I know; is it where I'm going or is it where I've been? Is it implying that I can go to an address? I mean…all scooters can go to an address. Maybe this one is different, maybe you can mail it. Maybe it comes with stamps… a lot of stamps…they go by weight nowadays. Mailing it could be an issue; it would probably go something like this.
95kg international parcel to Florida please. "Do you want fast post?" Ah no…just regular post thanks. "Okay no problem….that will be one million dollars please" Ahh one million, but it's an Address. "Yes sir I know it's an address; in Florida". No, the package it's a Suzuki Address. "Suzuki?...ahh I don't see that, I've just got Tampa Florida, do you want to re address it?" What no…no it's a SUZUKI ADDRESS, it's a scooter. "Scooter…is that a town or a city..."
Now there's an idea for a comparison test, best scooter to mail…yes it's a dumb name. Anyway on with the review…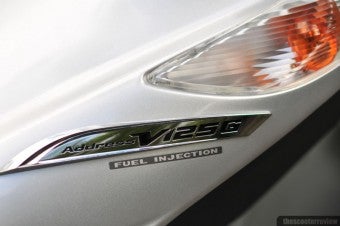 Suzuki is and always has been one of the larger players in the scooter market and the UZ125 represents many years of progress in the category. The UZ125 sits in what we call the budget 125cc category; it's built to an entry level price point and competes with models like the Piaggio Fly 125, Kymco Agility 125 and Sym Orbit 125.
The Suzuki's major weapon is its performance, with a maximum power output of 11 horsepower it leads the category on power output and is around the lightest too at just 95kg. This adds up to a few saved seconds in all of our performance tests. There are quicker 125s, but not at this price point. The Suzuki Address 125 has proven a very popular scooter for inner city couriers for this very reason; when your life depends on punching away from lights quickly and making small gaps while lane splitting it's hard to go past the Suzuki. Combine the brisk performance with solid reliability and low running costs and you can quickly see why the Suzuki is so popular.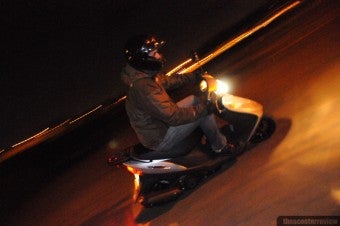 The low weight and ten inch wheels make the UZ125 highly maneuverable and one of the best handling small frame scooters around. On smooth roads the Suzuki is straight up fun to chuck into corners. Suspension is pretty average though and combined with the small wheels it can get pretty choppy over bumpy sections with heavier riders, but as they say; you get what you pay for. There's no free lunch etc…Suzuki did see fit to include a few extra features like an alarm and a 12 Volt socket under the seat for charging phones etc…but they decided to give us a drum rear brake and a pretty average front disc brake. Now take note; lose the marketing gimmicks; I really don't care if I can charge my damn i-pod. Use the money you could save not including these semi useless features on a nice solid set of disc brakes on both wheels. With twin discs the UZ125 would be the near perfect scooter. (We're going to experiment with upgrading the front disc on our long term test scooter.) In fairn...
Click here to read the rest of this article from The Scooter Review