Scooter Tyres Warwickshire
Scooter yyres, like tyres on any other vehicle, need to be maintained, repaired and occasionally replaced. Here you'll find additional information on scooter tires as well as local companies and providers that may help you in your search.
---
Partco Autoparts Ltd
01926 427844
Beauchamp Road
Leamington Spa
Data Provided by:
Ats Euromaster
0121 5650179
15 Tollhouse Way
Smethwick
Data Provided by:
National Tyres & Autocare
0121 5533238
2 Brandon Way
West Bromwich
Data Provided by:
Vicky Tyres
0121 5154575
Chapel Street
Birmingham
Data Provided by:
Uplam Tyres & Electrics
0121 5232800
264 Oxhill Road
Birmingham
Data Provided by:
Hi Q Tyre Services
024 76385893
2 Arbury Road
Nuneaton
Data Provided by:
Exhausts Tyres & Batteries Worcester Ltd
01926 888819
12 Highdown Road
Leamington Spa
Data Provided by:
T & B Tyres
0121 3274117
Beverley House
Birmingham
Data Provided by:
Morelli Central Ltd
024 76681143
414 Stoney Stanton Road
Coventry
Data Provided by:
Fast Fit Plus
0121 5030700
Unit 2-3 Bromsgrove Road
Halesowen
Data Provided by:
Data Provided by:
Continental Conti Twist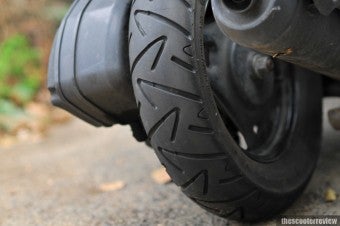 Well, 10,000 kms down on the mighty Suzuki UZ125 and the factory fitted Dunlop rear tyre finally gave up the ghost. This gave us the perfect oportunity to test out something new and exciting... well some new rubber.
I never had any real problem with the original tyres, however when Derbi (our local Conti importer) sent out a Twist for the rear I was VERY impressed. You see it is easy to be happy when there is no comparison available. So I had the Continental fitted up and gave it a few hours of gentle riding to clean off any untoward slippery stuff (there wasn't any, the tyre was excellent from the minute it went on) and get the tyre worn in a bit.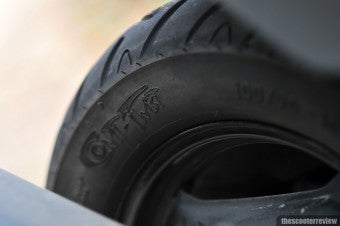 Long story short I was instantly comfortable with the level of grip, to the point where I was using the entire width of the tyre almost instantly. Lean angle is progressive and confidence inspiring and the level of grip is incredibly good, at no point did I even worry about the possiblility of the rear letting go.
The wet weather grip is also admirable, I don't like to push the bike on the road in the wet but in normal day to day riding with a slippery road the tyre felt plenty stable which is a fantastic with the Auckland winter advancing at high speed.
So if you are needing a serious road tyre for your scooter, just go buy a twist, they really are that good!
Editor review
Continental Conti Twist
| | | |
| --- | --- | --- |
| Overall rating:  | | 8.8 |
| Build quality: | | 9.0 |
| Value For money: | | 8.0 |
| Performance: | | 9.0 |
| Styling: | | 9.0 |
Reviewed by Del Fuego
March 25, 2009
#1 Reviewer
View all my reviews
Report this review
Pros: Good tire with the right amount of grip.
Powered by jReviews

Click here to read the rest of this article from The Scooter Review