Scooter Roofs Warwickshire
One disadvantage to riding a scooter is that it leaves the rider open to the elements, but roof attachments have solved this problem. Read through the following articles to learn more about scooter roofs and find local companies and providers who can help you find what you're looking for.
---
Moto Central
02476 347870
Heath End Road
Nuneaton
Streetbike
0121 506 6800
Streetbike Corner Mucklow Hill Halesowen
Birmingham
Action Motorcycles Ltd
01527 518833
Unit 5 New Meadow Rd
Lakeside, Redditch
Bikers World Motorcycles
0121 314 5883
Lichfield Road, Coleshill
Birmingham
Bikers World
0121 747 1284
Bikers Clearance World Ltd T/A Lichfield Rd Water Orton
Birmingham
Nightingales
01788 573257
58-60 Lawford Road
Rugby
Gran Sport Autoscooters Ltd
0121 773 0706
2 Bowyer Street,Bordesley
Birmingham
Redline Motorcycles
0121 4757599
1179 Bristol Road South Northfield
Birmingham
Dcr Motorcycles
0121 3567601
Unit 2, Howard Centre
Birmingham
Action Motorcycles Limited
01527 518833
Unit 5, New Meadow Road, Lakeside
Redditch
Malaguti Scooter Roof
Thursday, 19 November 2009 22:41
&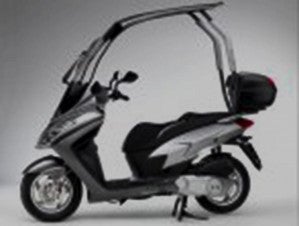 Well Malaguti has had a somewhat complicated recent history but they have recently shown what I consider to be a damned good idea. Now I personally don't "dig" scooters or bikes with roofs... however, there is a huge benefit to the idea i.e. not getting rained on incessantly over the winter. So what have Malaguti come up with to sway me?
Simple, so simple I am surprised it isn't a more common accessory, a roof that you can bolt on! I told you it was simple, it is for the worst name scooter on earth (yes worse than BeeWee) the Blog in both 125 and 160cc varieties. It simply attaches via the windscreen screws and the rear luggage rack. So bolt it on for winter and throw it in the garage for the sunny summer. There is even a "simple" to attach windscreen wiper and switch setup for the torrential days. Good idea... come on other manufacturers keep up.
Click here to read the rest of this article from The Scooter Review