Scooter Roofs Oxford
One disadvantage to riding a scooter is that it leaves the rider open to the elements, but roof attachments have solved this problem. Read through the following articles to learn more about scooter roofs and find local companies and providers who can help you find what you're looking for.
---
Faulkner & Son
01865 250147
165-167 Botley Road
Oxford
Kings Two Wheel Centre Ltd
01865 842144
139 Oxford Road
Oxfordshire
Abingdon Motorcycles
01235-550055
Marcham Road
Abingdon
Raceways
0207 237 6494
201-203 Lower Road
Surrey Quays
Midland Scooter Centre
0115 9392713
30 Pasture Road
Stapleford - Nottingham
Faulkner & Son Ltd
01865 250 147
165-167 Botley Road
Oxford
Bikewise Motorcycles
01235 535037
Unit 4 Barton Mill Audlett Drive
Abingdon
On Yer Bike
01296 655 999
A41 Bicester Road
Wescott
Demonmx.Co.Uk
01233 666 996
88 Ellingham Way
Ashford
John Wren Motorcycle Services
01229 836038
162 Rawlinson Street
Barrow In Furness
Malaguti Scooter Roof
Thursday, 19 November 2009 22:41
&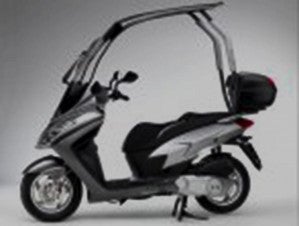 Well Malaguti has had a somewhat complicated recent history but they have recently shown what I consider to be a damned good idea. Now I personally don't "dig" scooters or bikes with roofs... however, there is a huge benefit to the idea i.e. not getting rained on incessantly over the winter. So what have Malaguti come up with to sway me?
Simple, so simple I am surprised it isn't a more common accessory, a roof that you can bolt on! I told you it was simple, it is for the worst name scooter on earth (yes worse than BeeWee) the Blog in both 125 and 160cc varieties. It simply attaches via the windscreen screws and the rear luggage rack. So bolt it on for winter and throw it in the garage for the sunny summer. There is even a "simple" to attach windscreen wiper and switch setup for the torrential days. Good idea... come on other manufacturers keep up.
Click here to read the rest of this article from The Scooter Review