Scooter Roofs Luton
One disadvantage to riding a scooter is that it leaves the rider open to the elements, but roof attachments have solved this problem. Read through the following articles to learn more about scooter roofs and find local companies and providers who can help you find what you're looking for.
---
Palmers Motorbikes
01442 232300
Pennine Way, Redbourn Road
Hemel Hempstead
J. D Thompson
01923 661262
Unit 2,Vickers House222 London Road
St. Albans
Taz London
01707 393 145
South Mundells
Welwyn Garden City
Norton Way Motors
0845 338 9716
Norton Way Motors Norton Way North
Letchworth
Grafton Motorcycles
01908 282121
Waverndon Service Area Newport Road
Milton Keynes
Del Basso Motorcycles
01462 432165
14 Bucklersbury
Hitchin
Bike Shack
01442 211567
28 Lawn Lane
Hemel Hempstead
A & M Motorcycles
01462 483211
Letchworth
Works Road
Agtmotorcycles
(152) 585-2212
17A Wing Road
Leighton Buzzard
Ford & Ellis Motorcycles Ltd
01494 772343
132-152 Broad Street
Chesham
Malaguti Scooter Roof
Thursday, 19 November 2009 22:41
&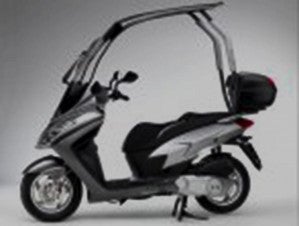 Well Malaguti has had a somewhat complicated recent history but they have recently shown what I consider to be a damned good idea. Now I personally don't "dig" scooters or bikes with roofs... however, there is a huge benefit to the idea i.e. not getting rained on incessantly over the winter. So what have Malaguti come up with to sway me?
Simple, so simple I am surprised it isn't a more common accessory, a roof that you can bolt on! I told you it was simple, it is for the worst name scooter on earth (yes worse than BeeWee) the Blog in both 125 and 160cc varieties. It simply attaches via the windscreen screws and the rear luggage rack. So bolt it on for winter and throw it in the garage for the sunny summer. There is even a "simple" to attach windscreen wiper and switch setup for the torrential days. Good idea... come on other manufacturers keep up.
Click here to read the rest of this article from The Scooter Review