Scooter Roofs Lancashire
One disadvantage to riding a scooter is that it leaves the rider open to the elements, but roof attachments have solved this problem. Read through the following articles to learn more about scooter roofs and find local companies and providers who can help you find what you're looking for.
---
Dave Milling M/Cycles Ltd
(019) 466-3380
Preston Street
Whitehaven
Kais Suspension Services
01942 896366
Punchbowl Garage
Atherton
Express Equipment
01539 739733
Mintsfeet Road
Kendal
Speedwell Motorcycles
0161 723 4774
75 Church Street
Radcliffe
The Scooter Centre
0151 525 6733
Fazakerley Fast Fit Ltd T/A 452 Longmoor Lane
Liverpool
Vin Cunningham M/C'S
01254 702 032
51 Blackburn Road
Darwen
Riverway Motorcycles
01942 242392
1A Westbridge Mews
Wigan
Rocket Centre Ltd
01254 297 810
Trident Park
Blackburn
Philip Youles Motorcycles
01254 277 120
Pendle Street
Blackburn
Bodylines
01772 561177
Quicktrack Ltd T/A Autograph House Frank Street
Preston
Malaguti Scooter Roof
Thursday, 19 November 2009 22:41
&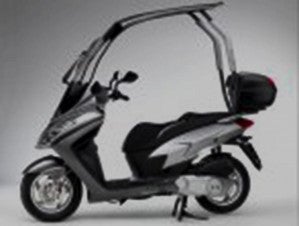 Well Malaguti has had a somewhat complicated recent history but they have recently shown what I consider to be a damned good idea. Now I personally don't "dig" scooters or bikes with roofs... however, there is a huge benefit to the idea i.e. not getting rained on incessantly over the winter. So what have Malaguti come up with to sway me?
Simple, so simple I am surprised it isn't a more common accessory, a roof that you can bolt on! I told you it was simple, it is for the worst name scooter on earth (yes worse than BeeWee) the Blog in both 125 and 160cc varieties. It simply attaches via the windscreen screws and the rear luggage rack. So bolt it on for winter and throw it in the garage for the sunny summer. There is even a "simple" to attach windscreen wiper and switch setup for the torrential days. Good idea... come on other manufacturers keep up.
Click here to read the rest of this article from The Scooter Review