Scooter Roofs Essex
One disadvantage to riding a scooter is that it leaves the rider open to the elements, but roof attachments have solved this problem. Read through the following articles to learn more about scooter roofs and find local companies and providers who can help you find what you're looking for.
---
Grays Motorcycle Centre Ltd
01375 370066
63 Southend Road
Grays
Rickys Pit Stop Scooters
01708 750547
Unit A 188A Crow Lane
Romford
Kegra Racing
01702 331 686
91- 93 Prince Avenue
Southend
Scooter Central Ltd
01376 560617
34 Warner Drive Springwood Ind Est
Braintree
Wybrow Motorcycles Ltd
01375 672823
26 Corringham Road
Stranford-Le-Hope
Manley'S Motorcycles
01255 421528
4 Ford Road
Clacton On Sea
Essex Honda
01245 354844
198-200 Baddow Road
Chelmsford
Alpha Motorcycles Ltd
01702 479979
Leigh-On-Sea
G H Motorcycles Ltd
01206 793605
Unit 1 Challenge Way Hythe Hill
Colchester
Ferry Motors (Harwich) Ltd
01255 502608
66 West Street
Harwich
Malaguti Scooter Roof
Thursday, 19 November 2009 22:41
&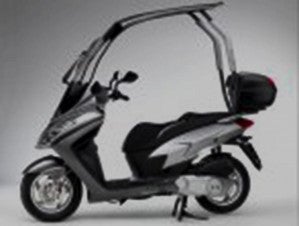 Well Malaguti has had a somewhat complicated recent history but they have recently shown what I consider to be a damned good idea. Now I personally don't "dig" scooters or bikes with roofs... however, there is a huge benefit to the idea i.e. not getting rained on incessantly over the winter. So what have Malaguti come up with to sway me?
Simple, so simple I am surprised it isn't a more common accessory, a roof that you can bolt on! I told you it was simple, it is for the worst name scooter on earth (yes worse than BeeWee) the Blog in both 125 and 160cc varieties. It simply attaches via the windscreen screws and the rear luggage rack. So bolt it on for winter and throw it in the garage for the sunny summer. There is even a "simple" to attach windscreen wiper and switch setup for the torrential days. Good idea... come on other manufacturers keep up.
Click here to read the rest of this article from The Scooter Review