Scooter Riding Scarves Shropshire
Scarves are a good accessory to have when riding a scooter--they can provide extra warmth and prevent wind from getting in under your helmet or through the neck of your jacket. Read through the following articles to learn more about scooter riding scarves and find local companies and providers who can help you find what you're looking for.
---
Musto
+44 (0) 1939 200644
Hodnet
Market Drayton
JJB Sports
+44 (0) 1952 291203
43-45 Southwater
Telford
Blacks Outdoor Leisure
+44 (0) 1952 292085
Colliers Way
Telford
Sports World
+44 (0) 870 333 9400
Wrekin Retail Park
Telford
Wac Tackle
01952 586786
5 Anstice Square
Telford
Data Provided by:
Buff Typhoon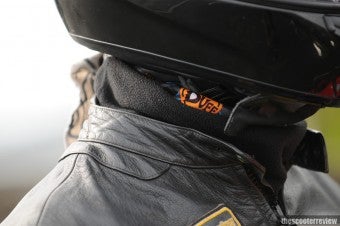 Now I have to start this with a brief apology to the guys at Buff... they supplied me a Typhoon several months ago. Unfortunately several months ago it was the middle of summer and realistically the weather didn't provide much call for anything calling itself a "Typhoon" Now it is the middle of June and getting into the depths of our winter. It doesn't snow here but it has been unseasonably cold... right down to sub zero conditions which is damn unusual for Auckland even in the depths of winter. So I had the opportunity on several occasions (every damn night!) to try out the Typhoon... well down to about 4 degrees anyway.
I only have one thing to say... I LOVE YOU BUFF for making this device. The Typhoon is essentially a heavy weight polar fleece sock that goes around your neck (well this is where I found it most useful) the sneaky thing is the addition of a large panel of wind stopper fabric which eliminates wind coming through the fleece. There is always a problem of freezing cold wind sneaking into the gap between your jacket and helmet exposing your throat and neck to the elements. Now my acupuncturist (I know, how terribly new age of me, right!?), Rosah, assures me that there is some sort of power point/socket (I could have that wrong) at the back of your neck and it is very bad to leave it in out in the cold... apparently it kills you, or turns you into a pumpkin or something (again the details probably aren't correct here but you get the point... cold neck = bad) so the Typhoon really is a lifesaver!

Like Buff's entire product range the Typhoon is a multi use device which works for many activities... Snowboarding, Cycling, Kidnapping etc. It also can transform into any number of useful variations, I find I don't use any of them... except occasionally the very hand "woolly hat" which makes use of the drawstring attached to one end. The only warning I must advance is to take a deep breath before sliding it over your head as the windproof gizmo is decidedly hard to breathe through... If it is cold... buy one now!
Powered by jReviews

Click here to read the rest of this article from The Scooter Review