Scooter Riding Jackets Greenwich
Jackets are a necessary accessory for riding a scooter; they serve multiple purposes including keeping you warm against the wind as well as protecting you should you have an accident and fall off of your scooter. Here you'll find additional information on scooter riding jackets as well as local companies and providers that may help you in your search.
---
J D Sports
+44 (0) 20 8297 0634
Molesworth Street
London
Sports Direct
+44 (0) 870 333 9400
Loampit Vale
London
Sports Direct
+44 (0) 870 333 9400
Bugsbys Way
London
J D Sports
+44 (0) 20 8293 9010
Bugsbys Way
London
Nike
+44 (0) 20 7237 2662
Redriff Road
London
Data Provided by:
Alpinestars T-Barcelona Jacket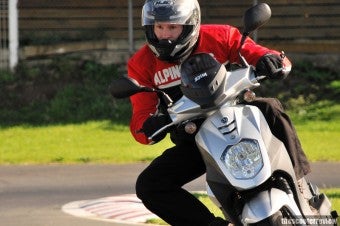 One thing that is an absolute certainty in the riding world is that at some point, maybe not not today, maybe not tomorrow but...at some point you will go down. Now it may not be a big deal, it may just be a small crash, you may just dent your pride at most. However, it may be something more. You may find yourself sliding along the tarmac. Now imagine this for a brief moment, you're sliding along and you ask yourself, what am I wearing? This is the big question. Many a scooter rider would be wearing just a t-shirt and shorts, these idiots will spend a long time in hospital trying to grow new skin. I however will stand up, dust myself off and probably have a latte. See I'd be wearing something like the T-Barcelona from Alpinestars.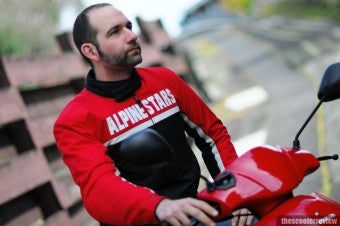 The T-Barcelona (T stands for textile) is the perfect jacket for the average scooter rider. The Barcelona features ample padding in the elbows, shoulders, back and abdomen to keep you safe in the event of a fall. The Barcelona also makes it possible to remove areas of padding if you find them too awkward. It must be said that this kind of defeats the purpose of wearing the jacket but functionality is something that matters if you're wearing a jacket day in and day out. I must admit that I did remove the shoulder pads for my short trip too and from the gym, the jacket was just a bit too difficult to move around in with them in...and I looked a bit like the hulk.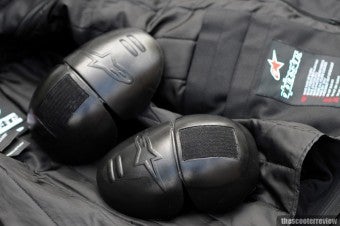 The Barcelona also features a zip out thermal lining for colder weather and I can tell you after riding through a rather wet and cold winter that the jacket will keep you warm unless you're riding in freezing temperatures. Alpinestars also saw fit to add interior pockets to the thermal liner so when it's fitted you still have somewhere to put all your gadgets; a nice touch. The only real drawback of the Barcelona is it's short cut, it does mean it won't bunch up when riding though it certainly looks a little short on taller folk. All told the Barcelona is superb jacket for any scooter rider, it will keep you warm and most importantly safe. The Barcelona is available in most markets and is priced competively. Try it.
Editor review
Alpinestars T-Barcelona Jacket
| | | |
| --- | --- | --- |
| Overall rating:  | | 7.8 |
| Build quality: | | 8.0 |
| Value For money: | | 7.0 |
| Performance: | | 8.0 |
| Styling: | | 9.0 |
| Comfort: | | 7.0 |
Reviewed by Del Fuego
March 25, 2009
#1 Reviewer
View all my reviews
Report this review
Pros: Well made, stylish protection.
Powered by jReviews

Click here to read the rest of this article from The Scooter Review