Saddle Bags Somerset
Saddle bags provide extra storage when you need to carry important items with you while riding your scooter. Below you'll find related articles as well as local companies and providers that will help you in your search for saddle bags.
---
Bransons Motorcycles
01935-474998
7 Oxford Rd Pen Mill Trade Estate
Yeovil
Hawkins Agri Ltd (Williton)
01984 633 900
Williton
Station Rd
Anderson And Wall
01278 423089
Church Street
Bridgwater
G J Parsons And Sons
01761 433522
Old Pit Garage Coombend
Radstock
Southwest Scooters
01935 475 574
5 Central Road
Yeovil
Hawkins Agri Ltd (Bridgwater)
01278 444 366
Bridgwater
Colley Lane
Atkins Motors
01823 254555
90 Wellington Road
Taunton
V & J Honda
01278-410110
Unit 3 Wylds Rd Riverside Business Park
Bridgewater
Lewis Motors
(014) 606-3095
Millfield Trading Estate
Chard
Bishops Of Bath
01225-421805
42 Third Avenue Oldfield Park
Bath
ScootR Logic Saddle Bags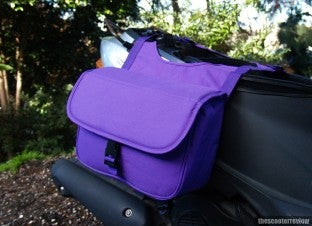 You are going to visit a significant other, perhaps even just an evening's "entertainment", you need to take your scooter because, well let's be honest, you can never tell when her husband will come home or there is some other urgent reason that you need to beat a hasty retreat. The upside of riding a scooter (well most of them) is the under seat storage capability, however maybe it is raining and you have to store your wet weather gear under the seat, maybe you just need space for a change of clothes and a couple of six packs in order to lubricate the evening's festivities. What do you do? A backpack is always kind of a pain in the keister and not particularly fasionable, well now my scooter riding lothario you have another option.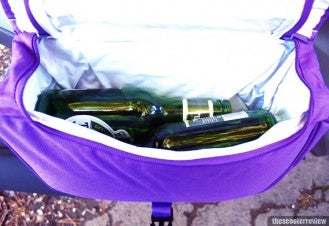 The ScootR Logic panniers/saddlebags are part of a new direction for this predominantly ATV accessory brand. They are a damn useful item of kit... they fold relatively flat for storage when not in use, have a liner that turns them essentially into a cooler bag if you are transporting beverages... or perhaps a picnic. Most importantly you really can cram a fair amount of stuff in there... I would wager that, you could with some careful packing be able to carry more than enough gear for a weekend away. There is one rather large downside... you may already be looked down upon as being... shall we say "a bit feminine" for riding a scooter in the first place... adding bright PINK (maybe Purple? I don't know... I am a man) saddle bags is most definitely NOT going to help this cause. PLEASE PLEASE just make them in Black, or Grey... or anything but pink(purple).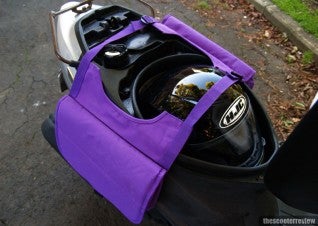 Anyway if you want a reasonably priced storage addition for your day to day commute or some slightly more longwinded journeying then definitely check them out... for 12 bucks you can't really go wrong!
Editor review
ScootR Logic Saddle Bags
| | | |
| --- | --- | --- |
| Overall rating:  | | 6.8 |
| Build quality: | | 6.0 |
| Value For money: | | 8.0 |
| Performance: | | 7.0 |
| Styling: | | 6.0 |
Reviewed by Del Fuego
July 22, 2009
#1 Reviewer
View all my reviews
Report this review
Inexpensive, extra storage for your scooter.
Powered by jReviews

Click here to read the rest of this article from The Scooter Review