SYM Scooters Wandsworth
Scooters are an eco-friendly, cost-saving mode of transportation that many people are turning to as an alternative to owning a car. Here you'll find additional information on SYM scooters as well as local companies and providers that may help you in your search.
---
Bmg Scooters (Fulham)
0207 736 0770
96 New Kings Road
London
My Scooter And Me Ltd
0207 3849534
Arch 20 Munster Road
Putney Bridge
Harry Nash Motorcycles And Scooters
0208 7482837
391 King Street
Hammersmith
Bmg Motorcycles
0208 878 8121
416 Upper Richmond Road West
London
Corsa Italiana Ltd
0208 540 7155
5 Walpole Mews, Walpole Road
London
Chelsea Solutions
0207 351 7400
49 New Kings Road
London
Chelsea Scooters Ltd
020 7736 6670
334-336 Wandsworth Bridge Road
Fulham
Harry Nash (Hogarth)
0208 748 2837
391 King Street
London
Bmg Scooters (Richmond)
020 8878 8121
416 Upper Richmond Road West
London
Ahsan Scooters Ltd
0208 677 9995
408 Streatham High Road
London
SYM DD50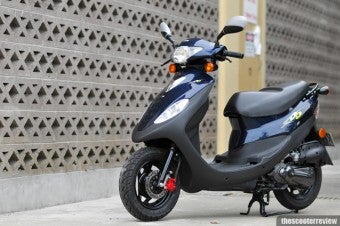 I wasn't sure we would see a direct and strong competitor for the winner of our 2008 50cc Super Battle…Yamaha's Jog. By competitor of course I mean a budget priced scooter that features solid performance, good build quality and fuel consumption in spite of the price tag. However the day may finally have arrived and SYM's DD50 may well be that competitor. There is one big feature that the DD has over the Jog and that is availability, you see if you don't live in Australasia or Asia chances are you won't be able to get a Jog. The DD50 is available virtually worldwide and the price is very reasonable in most territories.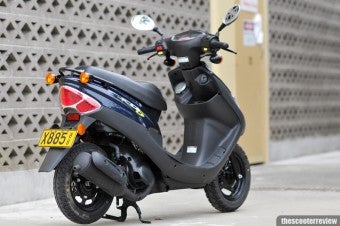 So what is so good about the new budget offering from SYM… for a start, and to me one of the most important features in a 50cc machine… performance. The SYM DD50 shows an ample turn of speed with a 0 – 50kph time of just 11.5 seconds, this is, admittedly a few seconds slower than the Jog but still an admirable figure. Top speed is around 65kph again a very respectable figure and word on the street has it that minor modification will extend both top speed and acceleration even further. Performance doesn't stop at just speed though… stopping and handling have a huge part in how confident and safe you feel using the extra velocity available.
Click here to read the rest of this article from The Scooter Review
SYM Jet Euro X 100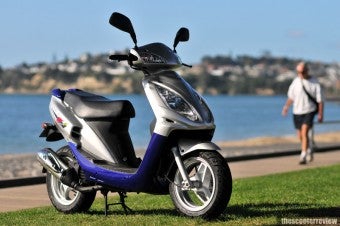 First off I'll tell you right now I'm not going to make fun of the SYM Jet Euro Xs name. I do it all the time as it's an easy gag to open a review; in this case its just a gimme so I'll leave it. I will however make fun of SYMs website again. Here's a quote "Jet Euro X comes equipped with 12 inch tires that provides a good grip on the ground; even when you are riding on very rough and slipped roads, you can enjoy a smooth ride." Well I'm never going to worry now; I've got a good grip on the ground even on slipped roads. Just humor me for a second here, what is a slipped road? I think I know, it's a road that has let it slip…you know, like put on a few pounds. Basically it's a fat road. Personally I've never seen a fat road…maybe they have them in Taiwan. Turn Right after Chung Hua Road make another right onto Rotund St and a left into Jalopy Crescent…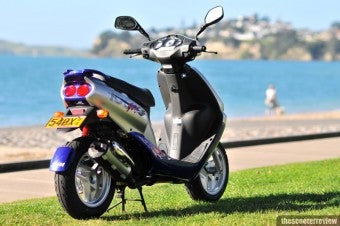 I'm often baffled at the sheer range of different scooter models, every manufacturer seems to have a model for every possible demographic. If you're in the 20.156 year old, white haired, post breakup with a red harried Albanian hermaphrodite demographic, there's a scooter for you. Thati is how I imagine the Jet came about, someone in marketing said let's do a 100cc racey looking two stroke and well, that's what we got. These days the average 100cc machine is a four stroke and most are a wee bit on the slow side. Being a two stroke the SYM is more powerful so somewhat justifies its sportier appearance.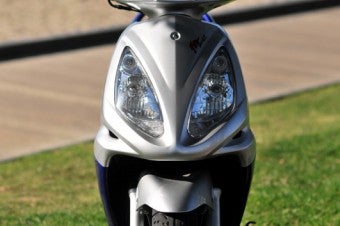 On the road the Jet is a pleasure to ride. It delivers its power with a cool two stroke buzz that almost makes it feel quicker than it is. Suspension is slightly on the hard side but does a reasonable job of ironing out most road imperfections. The front disc brake is of average size and does an adequate job of stopping the bike. Sadly the rear brake is only a drum brake. You'd think a bike supposedly something like a jet fighter would have twin disc brakes? Clearly this is an entry level jet not overly concerned with stopping at the end of the run way.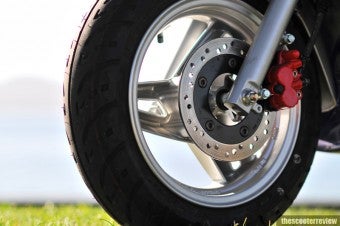 On the ease of use scale the SYM ranks about average. It will take a full face helmet under the seat but you'll have to use the key to access it each time as there's no remote release. There's also no glove box up front for…well gloves. I was expecting fuel consumption to be on the poor side being a 100cc two stroke but was pleasantly surprised to return 3.3L/100kms (71MPG). Obviously you'll have to add two stroke oil every so often which also has to be factored in as good quality oil is rather expensive these days. Oh and those big headlights are very powerful compared to the usual scooter headlights which are normally just glorified candles.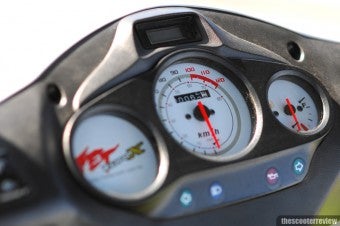 Summing up the SYM Jet Euro X. (Every time I write that I laugh) I'm not entirely sure who the Jet is aimed at, I imagine it's young males who like a sporty looking scooter. The two stroke motor certainly makes it fairly unique in the modern market and it does give it that fun two...
Click here to read the rest of this article from The Scooter Review
SYM VS150 Long Term Test
Written by The Sagittarian
Tuesday, 17 March 2009 00:06
SYM VS150 Long Term Test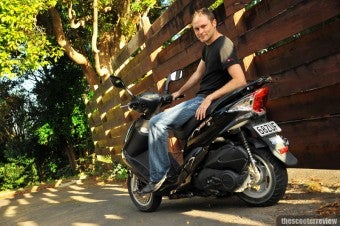 After receiving top honers in our mid size scooter battle, its time to give the SYM VS150 a full long term test. 6 months infact, putting it through the motions and of course the daily abuse scooters usually deal with in the real world.
First 2 week update : Picking up the VS from our local importer (thanks guys) it had 1 kilometer on the clock, nothing like something fresh out of the cargo crate. First impression showed that everything on the bike was in order. Not a single hickup or loose bolt from a sleep deprived night shift worker in Taiwan. Wearing it in over the first 500 km's can be painful, but I manged to hold myself back from the full throttle hyper warp-speed of this 15hp road rocket... barely!. No, but seriously speaking, it has a nice overall pickup that's quite linear. Good off the mark, progressive mid range, and nice top end, no real dips in its power curve or highlighted power areas, which in the real world is the perfect scenario.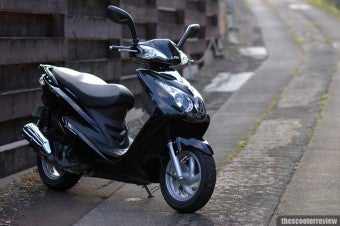 So, since then I've actually taken it on a 4 hour highway trip from Auckland to Whakatane and back. A serious journey for a 150cc scooter, but it managed to hold an average speed of 90-110 Kph. Speed depends on wind direction and seating position. With your head down, peeking over the dashboard you can manage 105-110kph. Add a tail wind and this can sometimes be 115. Sitting upright you're looking at 95-100 kph and with a head wind 90kph. This bike may not be quite built for the highway touring but still manages to be very comfortable over long distance. Maybe 2-3 more horsepower could give you the tiny bit more freedom to comfortably sit around 100-110 without hiding behind the dash. We will look into a small mod later on that might well give the HP to allow for this.

Around town its great. Plenty of room, comfort, usability and storage space for Africa. Its lacking a key turn seat button (you have to use key) and possibly a front glove box, but to be honest these are only very small issues. I'm still looking for any problems to report and I'm sure I will find something along the way, as we put it through it's paces. Next month I will show you how much I can actually carry on this thing, and its a lot more than a set of library books, try a small recording studio! See you in a month...

Last Updated ( Wednesday, 25 March 2009 21:55 )
Click here to read the rest of this article from The Scooter Review