Piaggio Scooters Yorkshire
Scooters are an eco-friendly, cost-saving mode of transportation that many people are turning to as an alternative to owning a car. Below you'll find related articles as well as local companies and providers that will help you in your search for Piaggio.
---
Transit Motorcycles
01904 637 169
20 Toft Green
York
Dyrons M/C S Ltd
01132 499208
412 York Road
Leeds
Gowland Motor Cycles
01262 673300
Arch 3 Station Ave
Bridlington
Fiveways Motorcycle Centre
01482 355535
17-19 Walton Street
Hull
Jeff Hall Motorcycles Ltd
0114 233 3116
130-142 Langsett Road
Sheffield
The Scooter Shop T/A Barcroft M/C S
01472 500050
77A Barcroft Street
Cleethorpes
Piaggio X7
Monday, 04 February 2008 21:44
Piaggio X7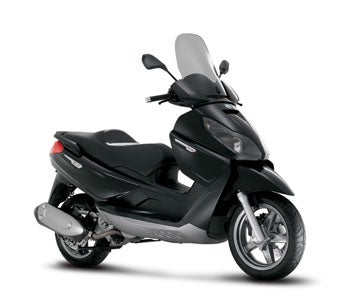 Introducing the Piaggio X7: agile and compact as a metropolitan scooter should be, yet with all the rider protection and stability of a maxi. The X7 is the latest heir to Piaggio's great GT scooter tradition and a brand new addition to the medium capacity commuter market.
Great performance is guaranteed by a choice of 125 and 250 ie engines, both four stroke, 4 valve, liquid cooled power units. Large 14" and 13" wheels plus a chassis built to cope with the city completes the picture
The new X7 from Piaggio, Europe's largest manufacturer of two-wheelers, is the perfect choice for urban and metropolitan mobility, combining as it does the best features of two different classes of scooter. The elegant and distinctively designed Piaggio X7 combines the light weight, dynamism and agility you need to tackle city centre traffic with the excellent stability, road holding and protection that were previously found only on far bigger GT tourers.
Style. Designed around the rider.
The Piaggio X7 has been designed around the rider. Elegant sport materials have been used to achieve perfect ergonomics and a sparkling ride that nevertheless offers all the comfort and ease of control necessary for hectic city centre traffic.
The Piaggio X7 envelops the rider in eye-catching style, with a streamlined yet protective leg shield, handlebar mounted windshield, sensuously powerful sides, and reduced overhang at the rear. On an X7 you feel protected by an enveloping space and completely at one with your scooter.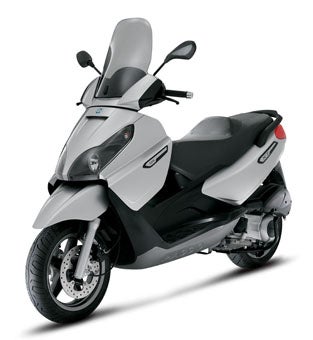 The front of the Piaggio X7 is characterised by an aggressively styled mudguard protruding over the front wheel like an extension of the front shield. The guards at the sides of the mudguard form robust shoulders that provide effective protection for the paintwork.
The windshield is mounted directly on the handlebars to emphasise the X7's dynamic nature. Extending in a continuous line from the sleek front shield, the windshield affords maximum aerodynamic penetration and wind protection. The front of the X7 is dominated by twinned headlights with a clear family resemblance to those of the latest generation of Piaggio GT scooters, giving the X7 a decidedly aggressive look and a purposeful 'frown'.
The sides feature simple yet decisive lines and emphasise the scooter's dynamic image. Seen from the side, the X7 transmits a clear sensation of compactness.
Even the seat, designed to accommodate the rider in unrivalled comfort, blends in perfectly with the X7's overall styling. Reduced seat height also makes the X7 beautifully easy to control.
The footplates and central tunnel are designed for maximum functionality and strength in the triangular area delimi...
Click here to read the rest of this article from The Scooter Review
Piaggio X8 400ie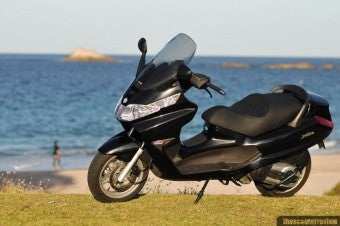 Does anybody actually know what the definition of a maxi scooter is? I mean it…I've asked lots of people and I constantly get conflicting answers; some say storage, some say engine size, others talk about larger wheels and pillion comfort. Now that is all well and good…but where's the line. Is it say, 160kg…then you're a maxi? So you're at the store on your Vespa, you pick up bag of oranges….wammo, you're a maxi. That's it bud you've past the line…do not pass go do not collect $200.
I believe a maxi is a combination of all those things; it's basically an underpowered automatic touring motorcycle masquerading as a scooter. Obviously you get the advantages of a scooter with an automatic transmission and built in storage, so a maxi scooter is always going to be superior to a motorbike around town, but... the X8s 34 horsepower really is about well…100hp less than a touring motorcycle. So one has to ask, is it enough to tour on? Straight up…yes, I was surprised as it works just fine.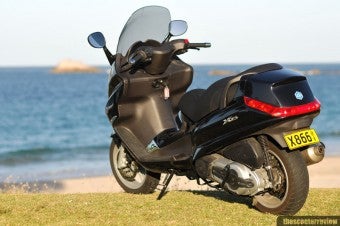 I took the Piaggio X8 400ie on a four hundred km round trip with a pillion to really test it's performance over long distance. First off the X8 is a total pleasure to sit on; the feet forward position is about as comfortable as you can get on any kind of bike. You have the option to move your feet back to the conventional vertical position if you feel you need more control when cornering. Pillion comfort is also high with a three hour trip being easily completed without a single stop. Storage space is rather generous and will fit fairly long objects due to its unique dual opening design. There's enough room for two overnight bags so you and your pillion can ride without a backpack if desired.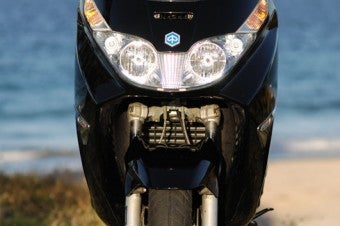 The 400cc engine only makes 34hp but does make 37.6 Nm of torque which is reached at a relatively low 5,500 rpm; this gives the X8 400 surprising brisk acceleration. We clocked it at 8.9 seconds to 100km which is ample quick for most riding. Given that you can do this with a simple twist of the throttle and no gear changes the number doesn't really illustrate quite how it feels, it's basically the same speed as a reasonably fast car to 100kp/h but does it completely effortlessly time and time again. Out on the open road the X8 will comfortably overtake slow moving traffic even with a pillion. Our travel time over the test route was approximately 30mins faster in each direction due to the ease of overtaking slow moving traffic on a bike. Apart from it's limited tank range the X8 makes a great bike for long trips as it cruises effortlessly at 100-120kph (62-75MPH). Fuel consumption on our test ride was about 5L/100kms (47MPG) which is pretty good considering the bike was ridden fairly hard and two-up the majority of the time.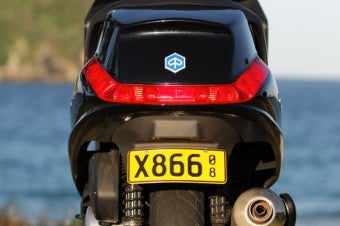 The X8 run twin disc brakes on the front wheel and a single disc on the back wheel; this gives the X8 solid braking for such a heavy machine. The brakes aren't linked on the left lever like on some maxi scooters. This isn't a problem for a...
Click here to read the rest of this article from The Scooter Review
Piaggio Zip 50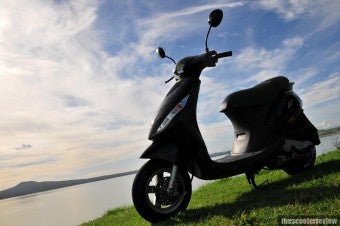 Before I even start this review I have to get this out the open… This will properly shock you, but….The Piaggio Zip '08 off the showroom floor, is so slow that it is almost dangerous. Right, I said it. I firmly believe the restricted, 50cc, four-stroke motor in this scooter only has just enough power to get around in a flat area... and then only if you weigh less than anorexic midget (little person?).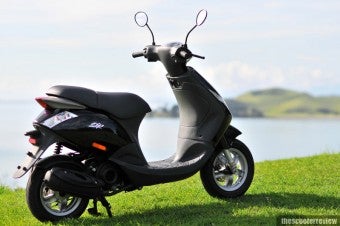 It's a real shame that it's so slow, as the Zip looks sleek and modern; it's a sexy little number. Piaggio have, as per usual, set the bar with build quality. The plastics used are great, the seat is well designed with a good quality covering. The lights are modern, stylish and well built, everything is great... there's just no power. Piaggio do produce a 100cc 4 stroke model which we haven't reviewed yet and I imagine that it would be great bike, as the only real issue I have with the 50cc Zip is the depressing lack of mumbo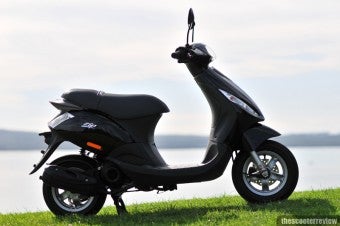 The 50cc Zip comes with 10" alloy rims and 175mm hydraulic disc brake up front, and the obligatory drum on the rear. On the road the Zip feels light and maneuverable, it is low to the ground and weighs approx 92-95kgs wet, the official dry weigh is 89kg. Once again, when there is a small incline any excess weight, be that rider or a full tank of fuel causes the speed to drop away much too quickly. Most 50cc scooters slow down a little when heading up a hill, but the Zip also stops, no really it does! Hitting a small hill, perhaps a 100m climb the bike could only push me up at 30kph(18mph). I was forced to the side and cars cruised by doing almost double my speed...ugh.. the shame... and the danger.
Click here to read the rest of this article from The Scooter Review