Peugeot Scooters Suffolk
Scooters are an eco-friendly, cost-saving mode of transportation that many people are turning to as an alternative to owning a car. Here you'll find additional information on Peugeot scooters as well as local companies and providers that may help you in your search.
---
Felixstowe Motorcycle Centre
01394 672005
5 Bridge Road
Felixstowe
Davey Bros Motorcycles Ltd
01473 254488
98 Alan Road
Ipswich
Mototechniks Ltd
01449 775775
Mill Street
Stowupland
Peugeot HYmotion3 Concept
Monday, 06 October 2008 14:33
Peugeot HYmotion3 Concept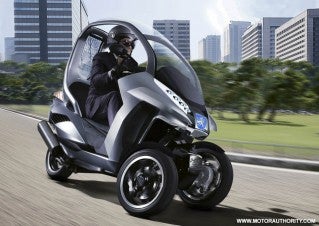 A wee update on this particular story... Peugeot have announced they will be releasing this machine, a 300cc petrol supercharged version at the end of 2010 followed up with a hybrid in 2011 so if you want a reverse trike scooter with some enviro electro this may be a viable alternative to Piaggio's extremely popular MP3.
I'm not really sure that this is exactly a scooter but either way this new concept from Peugeot gives an exciting insight into where the scooter (and automotive in general) market is heading. The HYmotion concept features a 20hp supercharged petrol engine along with a 5hp electric motor in each front wheel. The combined output is 29hp which is a very respectable output which should allow easy highway comuting with all propulsion engaged and near free around town work using just the electric motors. This combination should explain the proposed 117mpg fuel consumption figure that Peugeot is talking up.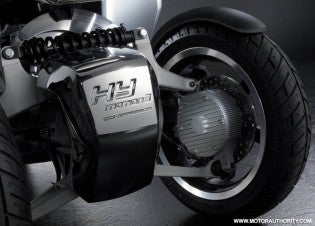 The futuristic looking device also features roll protection for the occupants and a wide windscreen and a roof. This is not the first time we have seen these kind of features incorporated into a scooter with BMW showing something similar a long time ago. However the difference comes with a Piaggio MP3 styled reverse tricycle wheel arrangement. Overall assuming they can combine all these elements into a package that weighs in somewhere under a couple of hundred kilograms the HYmotion will be a real gem... I am a big fan of this concept in vehicles... and given the local weather dual wheels and a roof for rain comuting sounds pretty damned good. Lets hope they build it.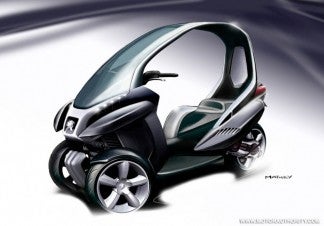 Courtesy of automotto.org

Click here to read the rest of this article from The Scooter Review