PGO Scooters Leicestershire
Scooters are an eco-friendly, cost-saving mode of transportation that many people are turning to as an alternative to owning a car. Read through the following articles to learn more about PGO scooters and find local companies and providers who can help you find what you're looking for.
---
Drayton Croft Motorcycles T/A Piaggio Leicester
0116 262 1664
52 Fosse Road North
Leicester
Rat Race Motorcycles
01509 813895
Brookside Works Sileby Rd
Barrow On Soar
Peugeot Scooter Services
0116 2862224
Unit 1 Macks Garage Leicester Rd Enderby
Leicester
Grand Prix Scooters
Tel:01162 357595
35 Boston Road
Leicester
Bats
01572 756552
Unit 7
Oakham
Coalville Motorcycles
01530 832179
28 Belvoir Road
Coalville
Drayton Croft Motorcycles
0044 0116 262 16
52 Fosse Road North
Leicester
Redcar Motorcycles
0116 266 1637
2 Redcar Road
Leicester
Castledines
0116 278 2544
South Wigston
Leicester
PGO PMX 50
I wonder if the PGO engineers had a major disagreement about the development of PMX scooter. Half of them wanted a 50cc motorcross bike, one that could rip up the dirt, one that you could do a back-flip over a car on. While the other half insisted that it be more normal main-stream, road going, scooter. After a few street-fights, guns at dawn and few rounds of paper, scissors, rocks the team at PGO agreed to compromise, at produced a hybrid of the two extremes.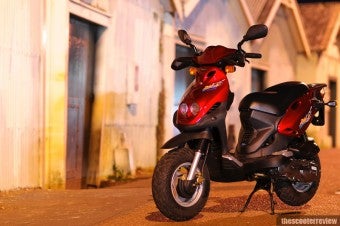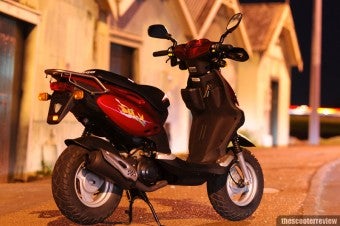 It's a big 50cc scooter, running big wheels and a big seat. The PGO engineers must agreed that having a big scooter was a good idea, and I agree it can easily hold someone 6-foot tall. There is a definite market for bigger 50cc scooters, as the uptake of scooters increases around the world.
The styling is…confused, There are 'token' plastic hand protectors taken from a motor-cross bike, that do absolutely nothing. They would break instantly in the crash, provided no protection - not even from the wind, and the look quite cheap too, manufactured in low quality matt-black plastic. There are semi knobbly tyres which add to the off-road look, but don't help PMX's on-road ability. But, if your morning trip to work takes you on a gravel road and a river crossing, then it would be an advantage.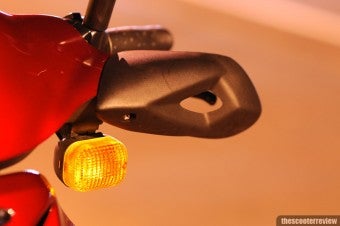 The PMX may look a bit confused, but in a straight line there is no confusion, it's a rocket. With a top speed of 74kph (46mph) it is the fastest 50cc scooter tested to date (1/6/08). It doesn't get there is record time though, in fact it around tight city street it felt quite heavy, cumbersome and slow off the line. When the PMX was raced around our track it managed a 47.0sec, which wasn't the fastest. Click here to see the full results. Our test rider, Hollywood, believed that the big wheels and the large size of the scooter bogged it down, and the straight wasn't long enough to hit the higher top speed. In the braking and cornering department the PGO PMX is well sorted, running a hydraulic disk up front, and firm shocks front and rear, producing predicable handling.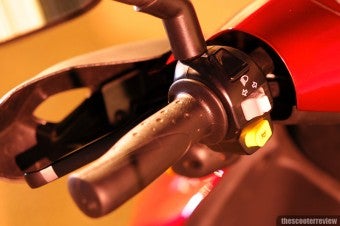 The storage capability of the PMX is great. It gobbles up a full-face helmet under the seat and has a small open glove-box.

The PGO PMX is the perfect 50cc scooter for high-speed gravel runs. But, if you're not planning on doing that, then there is better scooters out there. If your morning commute features long 60+kph runs then the PMX would be a good choice. Seriously though, with a crazy fast top speed and good storage, construction for the taller person in mind the PGO PMX had some good features.
Powered by jReviews

Click here to read the rest of this article from The Scooter Review
PGO PMX Naked Carbon
First off let's get something sorted. Do not ride this scooter naked! See I tend to take things literally, so I ripped my clothes off and went for a spin. I was cruising down the local high street and I was getting some serious stares. I was thinking, hot damn this is one cool looking scooter, everybody is looking at it. I did hear one guy say something like "look at that little fifty, it's tiny"…that's when I realized what was going on.
These people weren't staring at the bike; they were staring at my nakedness. Suddenly the "tiny" comment made more sense. I rode home as fast as the PMX would allow. Ahhh come on give me a break…it was cold out.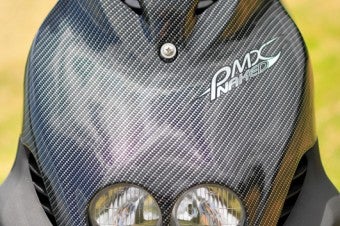 So why's it called a naked? Well when motorcycle manufacturers started taking the fairings off motorcycles to make them well fairningless, the term naked was coined. So a motorcycle without fairings is called a naked. What's the reason for taking these fairings off then? Well it serves no known purpose other than making the bike look different. First off there's less weather protection and obviously on a motorcycle you take a hammering from the wind. Why do people buy these nakeds? People are like sheep, we simply do as others do. So what's the word on the PMX Naked? The word is PARTY.
Click here to read the rest of this article from The Scooter Review
PGO X-Hot
Thursday, 03 December 2009 21:22
PGO X-Hot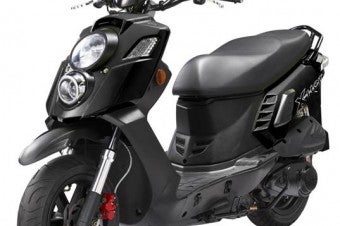 I'm not even going to talk about the name... too easy, and I am fairly certain that PGO are not trying to suggest their new high tech commuter used to be, or was formerly "hot" I am going to assume they are trying to say Extreme AND Hot(looking). Well the latest 125cc (comes in a 50cc as well) machine certainly succeeds in one of those departments. It looks damned good, and I don't say that often, most scooters are either retro, boring or hideously ugly and not necessarily restricted to one of the three options. The X-Hot looks awesome, purposeful front with very cool headlight setup, neat vents... be they useful or otherwise and a cool "I am the terminator" dash unit. PGO is also releasing a more traditionally styled but still very sophisticated and modern looking partner for the X-Hot using the same 125cc 4stroke engine... it is called the Libra... I will leave that one alone and restrain myself from referring to feminine hygiene products (looks like you failed. Ed.)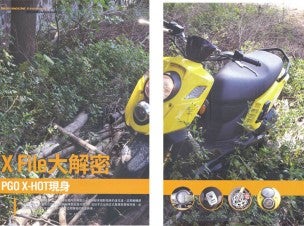 Anyway, it is the Xtreeeeeeeeeeeeeeeeeeeeeeeeem part of the name that I have a problem with... it would seem that the PGO's make a massive (sarcasm... lowest form of wit) 7 horsepower... my 2006 model year suzuki puts out 11.5hp... so 7 seems a bit sad, come on PGO! I won't pass judgment until I have ridden it but I suspect the performance will be underwhelming. Otherwise the machines are pretty much business as usual, disc front, drum rear brakes (really? still drum rear?) and 12in wheels. I do like the insinuation that this is some sort of offroader though... see pic of scooter in the woods from one mag that had a ride.

Click here to read the rest of this article from The Scooter Review