LML Scooters Westminster
Scooters are an eco-friendly, cost-saving mode of transportation that many people are turning to as an alternative to owning a car. Continue reading to learn more about LML scooters and get information on local companies and providers that will help you in your search.
---
Metropolis M/C'S
0207 793 9313
62 Albert Embankment
London
Ahsan Scooters
0207 627 5170
322 Clapham Road
London
Scootech-City
0207 404 3939
73 Clerkenwell Road
London
Lazer Motorcycles And Scooters Ltd
0207 267 3321
1 Belmont Street
Chalk Farm
Chelsea Scooters Ltd
020 7736 6670
334-336 Wandsworth Bridge Road
Fulham
Metropolis (Vauxhall)
0207 793 9313
60 - 61 Albert Embankment
Vauxhall
R. Agius Scooters Ltd.
020 7723 0995
363 Edgware Road
London
London Scooters Ltd
0207 378 1667
13 Crucifix Lane
London Bridge
Geo Moto Limited - Camden
0207 267 1557
1A Hawley Road
Camden
Bmg Scooters (Fulham)
0207 736 0770
96 New Kings Road
London
LML Star Deluxe
Friday, 28 November 2008 16:39
LML Star Deluxe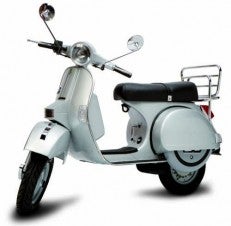 We all know the story behind LML product... essentially an Indian built Vespa... built from some old tooling that was retained by one means or another after a stint manufacturing for the Italians. LML have announced a couple of new models at EICMA in Milan.
Basically this is the same old machine that is licensed by a few companies globally, rebadged and sold around the world as things like the Genuine Stella in the USA, Belladonna in Oceania and Star in Europe. So what we have is essentially two new PX Vespas a 125 and 150cc version to update the range.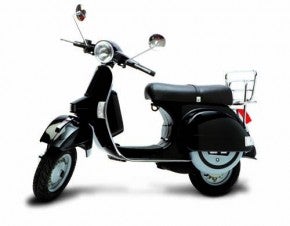 The new and exciting part seems that they have retained the 2-stroke format and acheived Euro 3 Compliance. The 2-stroke engines automagically mix the oil with the fuel and make 6.5 and 7.7hp respectively. Otherwise everything seems to be as it was in the previous incarnations... if you ignore the attrocious purple model they had on show which I am going to as I suspect it is just an attention grabber.
The Euro compliance is a good sign... I do love the smell of 2-smoke in the morning... smells like, um, well victory?... maybe not.

Click here to read the rest of this article from The Scooter Review