Kymco Scooters Preston
Scooters are an eco-friendly, cost-saving mode of transportation that many people are turning to as an alternative to owning a car. Below you'll find related articles as well as local companies and providers that will help you in your search for Kymco scooters.
---
Bodylines
01772 561177
Quicktrack Ltd T/A Autograph House Frank Street
Preston
Preston Superbikes
01772 727 213
42
Preston
Shorrock Motorcycles
01772 744392
82-86 Leyland Road
Penwortham
Rgm (Roy Gardner Motorcycles)
01772 603781
Unit 17 Twin Lakes Industrial Park Bretherton Road
Crosston
Vin Cunningham M/C'S
01254 702 032
51 Blackburn Road
Darwen
Freedom Bikes
01772 822885
2.11A,
Preston
Buzzinmotos
01772 739700
Scooter Centre, Blanche Street
Ashton-On-Ribble, Preston
Blackburn Cycle & Scooter Centre
01254 675181
31 Northgate
Blackburn
Blackburn Cycle And Scooter Centre
01254 675181
31 Northgate

Rocket Centre Ltd
01254 297 810
Trident Park
Blackburn
Kymco Downtown 300i
Friday, 17 October 2008 00:25
Kymco Downtown 300i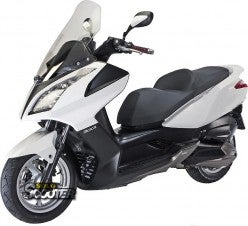 A sneak preview of one of Kymco's new machines... due to be unveiled officially at next months EICMA show in Milan. This tiem Kymco is going to take you "Downtown" with their entry into the 300cc market which appears to be the new segment to be in if you are a scooter manufacturer.

Details are a little sketchy but it would appear the Downtown 300i will feature a 4 valve, liquid cooled, injected 300cc engine. Along with this, word is on extended luggage capacity, a 14" front and 13" rear wheel combo with decent disc breaks on both along with optional ABS. More details as they come to hand but for the time being... it does look pretty damned good!




Click here to read the rest of this article from The Scooter Review
Kymco Like
Friday, 28 November 2008 12:39
Kymco Like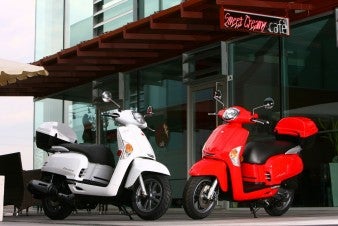 Well Yamaha have a challenger for the most stupid name in the world contest... What kind of name is "Like" It isn't even a particularly powerful word. What I would like to know is was this name drawn out of a hat, or did Kymco just want desperately for everyone to say... "Like, totally like... ummm... like" Like what?
Or perhaps you are supposed to like it more because it says like on the side? Ok end of rant, I guess "Like" isn't too much more ridiculous than "Address" but I think maybe they should have just called it the "Analagous" or the "Equivalent"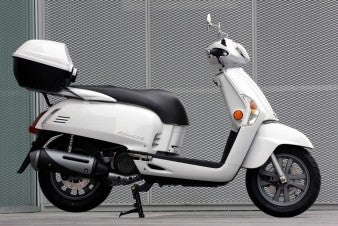 Anyway, besides the name this looks like a pretty damn nifty product from Kymco/Bug, an obviously retro design based on classics of the '50's and '60's. Judging by the photos they have done a good job. The Like comes in 125cc and 50cc varieties both are 4-stroke 2 valve units. It sounds like braking will be via a dual disc system on the 125 and a disc and drum on the 50. As far as I can tell the top box is also a standard feature along with Halogen headlights.

Silly name, ok looking machine, I shall reserve judgement as to whether I like it (sorry, had to put one in there) or not based upon performance.




Click here to read the rest of this article from The Scooter Review
Kymco Xciting 500i R Review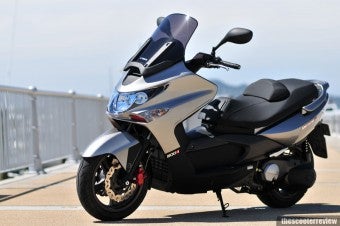 First off let's clear something up. I'm not a huge maxi scooter fan. I do enjoy them to varying degrees but like most scooter riders who also ride motorcycles I often find them somewhat underpowered, overpriced and vastly overweight. With that negativity out of the way let's move onto the Kymco Xciting 500i R, well immediately Kymco have solved one of my major problems with maxi's, price. Now price may not be everything to most people; hell look at all the Porsche's sold each year, multiple thousands of people are dumb enough to buy a car four times the price of a competing model and actually justify their purchase. Obviously we can all delude ourselves into justifying any stupid thing we waste our money on. Hey, I do it every time I buy myself a new nuclear ballistic missile for home protection. It sure keeps the neighbors friendly; I just sit there on my front steps with my finger hovering over the big red button. When I go next door for a cup of sugar…they give me the whole bag. BOOYA….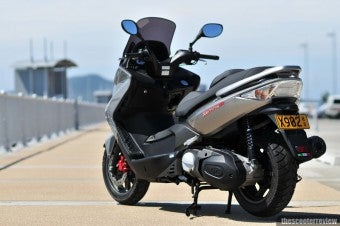 The Xciting arrived at the perfect time; I'd just finished the review on the Yamaha T-Max so I was perfectly able to compare apples with oranges. The T-Max is in some ways the benchmark for Maxi's so makes the perfect comparison in my mind. Before I risk angry emails and possible death from the hordes of T-Max fans I'll make it clear…yes the T-Max is a better maxi scooter than the Xciting. The problem my T-Max loving friends is this; how much better is it? Well, not that much really. The T-Max makes a few miserable horsepower more and is a little quicker in straight line; it isn't however much of a difference. Certainly not worth any real price increase. Braking performance on the Kymco is quite solid with big wavy discs on both wheels and linked brakes off the right lever. The T-Max however runs some of the best brakes in scooter land so takes the win here too.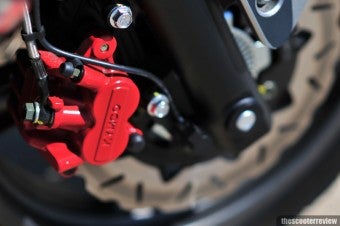 The suspension on the Kymco does an adequate job hustling you around town or cruising out on the freeway and generally feels well sorted. Yamaha's T-Max certainly feels superb in the suspension department and combined with its low weight and superior chassis the Yamaha will carve up the Xciting through a fast twisty section of roads. So the Yamaha is quicker when really pressed, how much faster? Probably not enough to make any noise about; there's no way you're writing a letter home to mum about it. 'Dear mum, wow…I rode a scooter today and it was about two percent better that this other one I rode…riveting'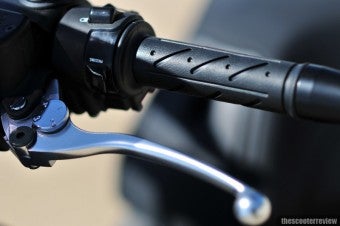 Ease of use is about average for a maxi scooter. There's a reasonable amount of under seat storage and a convenient switch to access it and the fuel filler off the ignition barrel. Fuel consumption was just over 47MPG which is un-surprising…average for a maxi scooter. The bikes high weight makes it a fair pain to put on the center stand but thankfully there's also a side stand for convenience. It's hard to comment on build quality other than what's immediately apparent. Kymc...
Click here to read the rest of this article from The Scooter Review