Keeway Scooters Norfolk
Scooters are an eco-friendly, cost-saving mode of transportation that many people are turning to as an alternative to owning a car. Read through the following articles to learn more about Keeway scooters and find local companies and providers who can help you find what you're looking for.
---
C.J. Ball And Son
01508 549300
Hales
Norwich
Ess Scooters
01508 522523
Browne And Sons (Loddon) Ltd T/A Anglian House Loddon
Norwich
Moonraker Motorcycles
01603 623 601
125-129 Oak Street
Norwich
A.R. Motorcycles
01502 584 169
Unit 2, Horn Hill Works
Lowestoft
C.J. Ball & Son
01603-307500
The Woodlands Salhouse Road
Norwich
Goldarrow Motors Ltd
01603 722800
1 Chestnut Court
Norwich
Lings Honda
01502-537444
Lings Wharford Riverside Business Park Riverside Road
Lowestoft
Anglia Plant & Agricultural Machinery Ltd
01508 471777
Norwich
Swainsthorpe
Dave Barkshire Motorcycles
01603 722800
1 Chestnut Court Wendover Rd Rackheath Ind Est
Norwich
Dave Barkshire M/C Ctr
01603 614 863
41 St Augustines Street
Norwich
Keeway Flash 50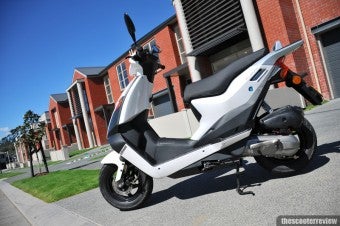 Restricted 50cc scooters really are the bain of a reviewer's life, this is for a very simple reason… They are Horrifically, Horrendously, and Dangerously slow… The pace of a restricted 50cc motor scooter could easily be compared to a quadriplegic South American two-toed Sloth… or perhaps an arthritic, amputee Tortoise in quicksand. You see, what happens when you saddle up a restricted 50… especially after riding any 100cc plus, or even derestricted 50cc machine… is nothing. You cannot help but scream to yourself "Kill me NOW!" this initial reaction makes it very easy to give the scooter in question… as you would probably guess…a bit of a raw deal.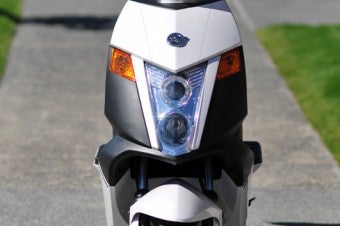 What I try to do with this particular genre… to which the Keeway belongs… is, so far as possible ignore the performance, or lack thereof for a while so I can fairly judge the rest of the machine's qualities, this is much easier said than done. The first thing I noticed about the Flash was the styling; the Flash is a very modern take on scooter design. The front of the Flash especially… I'm not really sure what it looks like… maybe some kind of battle droid, or perhaps the physical embodiment of the Keeway logo… either way the result is a slick, modern looking machine. The bike has clearly been built to a price but the materials used and the finish achieved is reasonably good.
Click here to read the rest of this article from The Scooter Review
Keeway Venus 50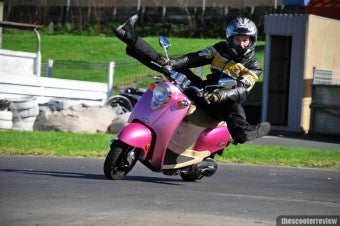 Testosterone is a steroid hormone that promotes libido, increased red blood cell count and more. To me it is a chemical that floats around in the body; the highest concentrations of which can be found in men's bodies. This chemical as far as I can tell is designed to make men stupid. I am no doctor but as far as I can tell it makes men want to drive big, powerful, cars and motorbikes with loads of horsepower which (they think) will make them more attractive to women allowing them to procreate and continue the human race.
It also, apparently, makes men want to fight… generally as far as I can tell to secure the best female specimen for mating… like two bucks clashing antlers in the rutting season. This is a very powerful chemical, it is like a drug, and it is very hard to combat the urges that it awakens in your adolescent years.
Now to ride a scooter you have to battle this inner demon, you have to use your brain instead of your instincts. In other words you have to be very secure in your masculinity… I like to think I am a pretty secure guy; hell I ride a small, silver scooter every day of my life for transport and entertainment. So where am I going with this you ask… well let me tell you. When I dropped into the Keeway distributor to pick up the Keeway Venus 50 all was well… until my contact there said… "Look I don't want you to take this as a slur on your manhood or anything but…" and there, sure enough was a metallic PINK, modern retro scooter. The only way it could be less manly would be if the entire cast of Priscilla Queen of the Desert were perched daintily on the handlebars! This is the first and only time the thought that we really needed a female reviewer crossed my mind. I even considered writing this under a pseudonym… perhaps Mary-Lou…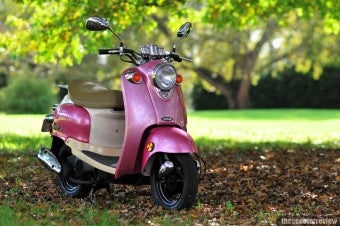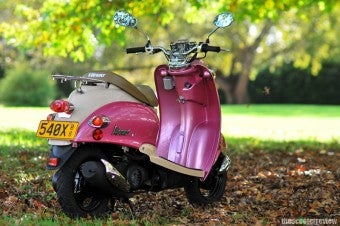 All jokes aside, the first thing you will notice is the paint, not so much the color as the quality. This is a hi tech looking metallic that is well applied and well thought out with contrast provided by a creamy beige panel running along the centre of the bike. The next thing you will notice is the quality of the components. Fit and finish is to a good standard with details like seat and taillights looking like high quality, well-designed units. The detailing continues to good-looking mirrors, chrome plated instrument cluster etc.
So picture if you will a small, shiny, pink scooter being ridden by a large, 6'3" behemoth in jeans, black boots and a leather motorcycle jacket… yes it was a sight to behold. The only thing more surprising than this image was how much I enjoyed the bike. If I ignored the colour (they also come in black) it was an absolute joy. Acceleration was brisk, handling was accurate, brakes were ok considering it has drums all round. This is a nice lightweight machine, clearly designed with the ladies in mind however it also managed to be the fastest 50cc scooter we have tested so far. On flat ground it had no trouble keeping up with traffic up to a whopping 67km/...
Click here to read the rest of this article from The Scooter Review