Hyosung Scooters Cheshire
Scooters are an eco-friendly, cost-saving mode of transportation that many people are turning to as an alternative to owning a car. Here you'll find additional information on Hyosung scooters as well as local companies and providers that may help you in your search.
---
Crewe Honda Centre
01270-213575
146 West Street
Crewe
Single Tracker
01270 212965
20-26 Flag Lane
Crewe
Chester Honda Centre
01244-378365
11-11A Liverpool Road
Chester
Bill Smith
01244 323845
30-36 Tarvin Road,Boughton
Chester
Revolution Scooters
01925 828787
17 Kingsway North
Warrington
Road & Racing Motorcycles
0161 366 5167
Clark Way
Hyde
Howard And Son
(161) 480-3825
34 Newbridge Lane
Stockport
Millenium Motorcycles
01744 616 161
Aspinall Place
St Helens
Bikezone Crewe Ltd
01270 500040
82 West Street
Crewe
Marriott Motorcycles Ltd
0151 653 8704
72 - 76 Oxton Road
Birkenhead
Hyosung Prima Rally 50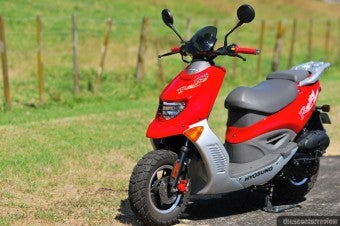 What is a Prima Rally? Well Prima means first in Italian and Rally, I imagine in this context is alluding to some sort of off-road on-road motorsport event. So the Hyosung Prima Rally is the number one rally vehicle on earth. I mean it clearly states it on the side…so it must be. If you were to enter in the WRC (World Rally Championship) obviously you'd win. The 1.5 million dollar, all singing, all dancing, four wheel drive, turbocharged Subaru Impreza would have no chance…zero. Funnily enough I haven't seen any Prima Rally's in the WRC so I'm a bit confused. I think, however that I've figured it out, it's a puzzle. What they actually meant was this: Prima is short for Prima Donna and Rally is just poor spelling, they actually meant to write alley. This gives us a Prima Donna in an alley…which ahh is a loose way of saying…a male prostitute. Obviously Hyosung wanted to call the bike 'The Gigolo'…now that's a name to sell bikes with. Hell I'd buy one.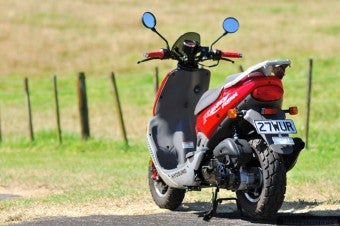 The Hyosung Rally has been on the market for quite some years, the first version was introduced back in 1999 and since then improvements and extra features have been added to keep the model current. Hyosung is becoming more of a force every year with there aggressively priced motorcycles and scooters; they are certainly one of the stronger and higher quality Korean manufacturers. They also have strong dealer networks in most countries so buying a Hyosung is normally a safe bet.
Click here to read the rest of this article from The Scooter Review