Honda Scooters Huddersfield
Scooters are an eco-friendly, cost-saving mode of transportation that many people are turning to as an alternative to owning a car. Continue reading to learn more about Honda scooters and get information on local companies and providers that will help you in your search.
---
Craigs Motorcycles
01924488117
Wesley Place Dewsbury Ring Road
Dewsbury
P And D Autos Ltd
01924-372907
184 Leeds Road Newtown Hill

Rochdale Honda
01706 640626
48 Milnrow Road
Rochdale
J.S. Gedge
01424-423708
406-408 Old London Road
Hastings
Belle Vue Motors
01702 464945
460 Southchurch Road
Southend On Sea
Padgett'S Of Batley
01924-437700
234 Bradford Road
Batley
Leeds Honda
0845 1770945
Unit 1 Wellington Road Industrial Estate
Leeds
Castle Motorcycles
01977-553523
3-7 Bridge St
Castleford
Chiswick Honda
020 8996 8100
4 Power Road
Chiswick
Albion Motorcycles Ltd
01392 260340
Unit 2, Merriot House Marsh Barton Industrial Estate Hennock Road
Exeter
2009 Honda SH125i
Friday, 07 November 2008 01:09
2009 Honda SH125i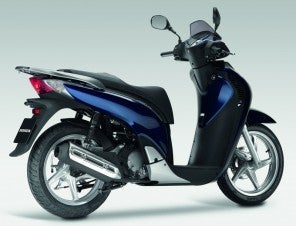 Honda celebrate 25 years of the "SH Family" in 2009, which has become the best selling scooter range in Europe. The original SH of 1984 became a familiar sight on city streets with its distinctive high wheels, flat footboard and generous carrying space. It further pioneered many features now deemed 'normal' for scooters.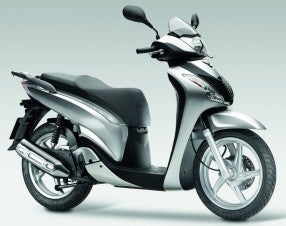 The new SH is claiming near 100mpg fuel economy and emissions of just 69.522g/km which are figures well in keeping with Honda's "clean and green" policy globally. Overall styling of the SH range has been altered with the front profile of the SH125i now smoother and in line with a more tapered rear section. Along with this there are some dimension changes including a 10mm drop in seat height plus 20mm (wow 2 whole centimeters) of leg room. There is also an option with a rear 240mm disc brake... why this isn't standard across the board rather than a choice of disc or drum. To top off the styling there are a few new colour options available including "Pearl Acid Yellow" which sounds somewhat like an intestinal disorder, a Red Pearl, White Pearl, Pearl Blue, Pearl Black and Metallic Silver.

Click here to read the rest of this article from The Scooter Review
Honda Dylan 150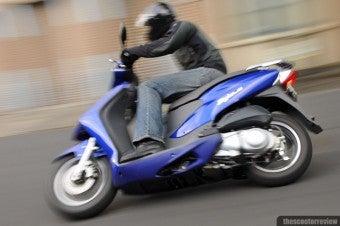 Sparks flying, plastic exploding, the brand new Honda Dylan converts into a high speed crayon drawing a long metallic blue line on the damp tarmac.
This is the vision flashing in my brain as I sign the insurance forms at my local Honda distributor while glancing out the large plate glass window at rain, slick road and kamikaze car drivers intent on demolishing the Dylan like a hungry redneck at 'all you can eat rib night'. Why the panic… well you see the Honda Dylan 150 looks good, a far cry from bikes that I own, my bikes tend to end up on the ground soon after pickup, usually not intentional but I never worry, you see. To me a scooter is a Tool, not a work of art; once it has some scratches on it I cease worrying about the thing and just use it.
This is where we get back to the Honda Dylan 150. It looks good, with it's high tech angles, multifaceted lights and beautiful metallic paint… it looks like a modern maybe even futuristic version of, well, of a scooter.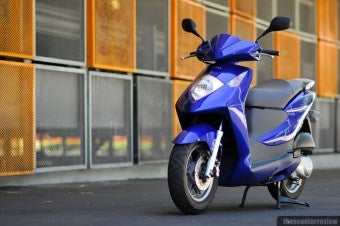 Fortunately looks are not the end of the Honda Dylan tale. After riding this scooter for a few days I concluded that as far as tools go this one is certainly fit for the job, even if it is pretty. Let me give you some background; The Honda Dylan was designed by Honda's European design team and built in Italy to compete with the likes of Vespa, in an age old "if you can't beat 'em, join 'em" scenario. I was genuinely expecting a lot of show and very little go… the opposite was almost true. The Dylan 150 stood up to the rigorous test of suburban commuting very well indeed. The 13 inch alloy wheels initially felt like they turned the bike into some sort of boat, slow to react and hard to throw around. However if you ride it more like a traditional 'motorcycle' i.e. push the bars a bit and use your body weight, the bigger wheel proved a hard act to follow. The Dylan feels upright and stable in all conditions and will lean into a corner and hold fast if your inner racer comes out. More importantly, if your daily commute includes motorway/highway riding this scooter will do the job admirably.
Click here to read the rest of this article from The Scooter Review
Honda Silverwing 2009
Monday, 03 November 2008 11:51
Honda Silverwing 2009?
A new maxi scooter is due to be unveiled by Honda Motor Europe in Milan very soon. It is based on a 400 Silverwing, ( pictured below). Honda's goal is going to go head to head with the Yamaha T Max The new 2009 model will be around €6000 ($US 7,640) with ABS. While the Yamaha T Max retail price is €8,999 (US$1,459).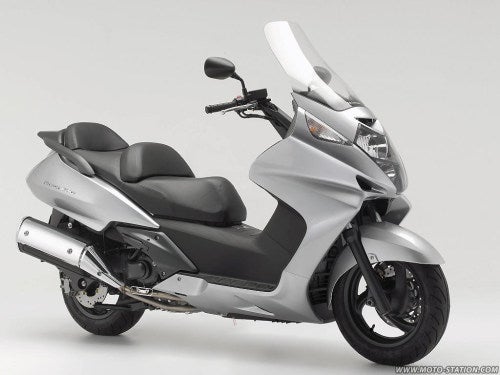 Click here to read the rest of this article from The Scooter Review