Gilera Scooters Harrow
Scooters are an eco-friendly, cost-saving mode of transportation that many people are turning to as an alternative to owning a car. Below you'll find related articles as well as local companies and providers that will help you in your search for Gilera scooters.
---
Motorbike Warehouse (Uk) Ltd
0208 385 0566
164 Watford Road
Wembley
Scootercity (Wembley) Ltd
0208 9041345
18 Grand Parade Forty Avenue
Wembley
D & B Motorcycles Limited
0208 951 0139
101E High Street
Edgware
Centro London Ltd
0208 830 1000
46
London
F C Trott Motorcycles
0208357 2497
314 Eastcote La
Harrow
H.G.B. Motorcycles Ltd
01895-676451
69-71 Parkway
Ruislip Manor
Scooter City (Wembley) Limited
020 8904 1345
18 Grand Parade,Forty Avenue
Wembley
Hgb Motorcycles Ltd
0208 8415370
3-5 Station Approach South Ruislip
Ruislip
Elite Motorcycle Training Ltd.
(070) 046-5456
900-108 Pinner Road
Harrow
A P C Motor Services Ltd
0208423 3122
Rear Of 314 Eastcote Lane
Harrow
Gilera Nexus 300
Sunday, 29 June 2008 11:37
Gilera Nexus 300
Gilera Nexus 300

Ok I hate to whine and whinge but I feel the need to (once more) complain at Piaggio... Hopefully one day they might listen.
Piaggio have released another bike with their "all new 300cc engine" which is... to not put too fine a point on it... a complete waste of time. The new Gilera Nexus 300 replaces the old 250cc bike. I can't see any reason to upgrade if you already own the 250. Power is up by about one Gp that's Gnat Power although torque is slightly better as well up to 23nm. Both peak Hp and Torque are found slightly lower in the rev range... and I mean very slightly... around 500rpm lower.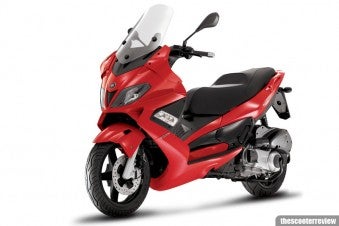 This engine is clearly Piaggio Groups attempt to fight back against the dominance of Honda's SH300 which has been ranking at the top of all kinds of sales lists. The fact is this was the perfect chance for Piaggio to have a serious go at them... why not make an engine that is really a 300cc and will compete with honda's 27Hp with similar or even greater power... I would have liked to have seen a 30HP 300cc engine to power the GTS and the Nexus... and no doubt the Runner when they decide to update that. The current "300cc engine" is simply a marketing bluff and a performance sidestep.
The Nexus still looks very good and has some refinements for especially highway cruising with 15" front wheel and reasonably serious brakes etc. I am just disapointed that such a great opportunity to build a seriously world class machine was wasted and the decision to run with this less than inspiring engine looks to mean no real improvement in the forseeable future. Further comment when we ride one but on paper it looks like a very minor improvement on what it replaces.
More whinging will follow when the all new "gilera runner vxr300" is anounced.

Click here to read the rest of this article from The Scooter Review
Gilera Runner 180 SP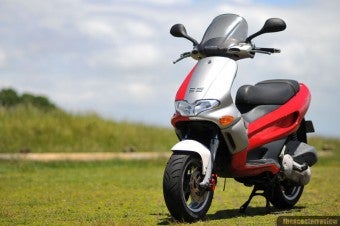 Back in the day two strokes were the only way to go if you wanted a quick scooter and the Gilera Runner 180 SP was the king of the hill, the big enchilada, the scooter other scooters were afraid of. Riding around on the Runner sent other regular scooters scurrying off like frightened rabbits. Run wee rabbit…run.
Summing up the Gilera is a relativity amusing process because it doesn't really make much sense on paper. Its hybrid scooter/motorbike design makes it look a bit weird, not ugly…just a bit weird. You certainly get to like it but it takes a little while. It's definitely not economical to run compared to most modern four strokes and it's not the most reliable of scooters, oh and doesn't really handle all that well either.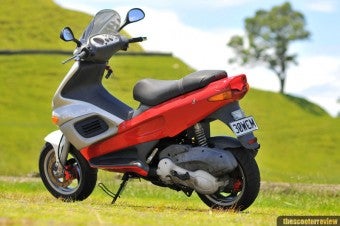 However…IT DOES GO FAST and as any real man or woman knows, that's all that really matters. Well at least to idiots like me…and there's plenty like me. People like me disregard all practical considerations in the desperate pursuit of more and more power. Funnily enough it comes to a whopping total of 21 horsepower which is a lot in scooter land but…well pretty crap in any other terms. However, this is scooter land and 21 horsepower is KING. While other scooters are struggling up a hill or drifting away from the traffic lights the 180SP is bending time itself and warping it's rider into a another space time dimension. Well…not really, actually that never happens…not once. Why did I even write it? Let's just ignore it and move on, pretend it never happened. The simple fact is that the Gilera Runner 180 SP was one of the fastest conventional sized scooters available and still is: which is why it continues to be so popular.
Click here to read the rest of this article from The Scooter Review
Gilera Runner SP Simoncelli
Friday, 14 November 2008 00:47
Gilera Runner SP Simoncelli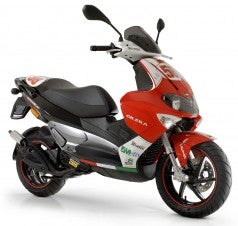 Gilera are celebrating! The special Simoncelli edition Runner is here.
 Thats right a special edition of the 50cc racing machine has been commissioned to commemorate Marco Simoncelli's Championship victory in the MotoGP 250cc class. It has been 51 years since an Italian won a world championship riding a Gilera and they are making the most of it.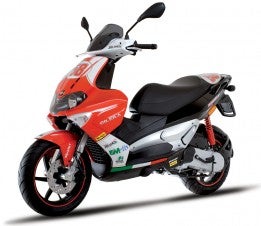 The SP Simoncelli is a redecorated version of the 50cc Runner, it rolls on 14" front and 13" wheels with disc brakes both ends. It is powered by a 4.5hp two-stroke engine. The livery is the Team Metis, Gilera colours with Simoncelli's race number (58) and the sponsors etc placed where they are on the championship winning machine to separate it from the run of the mill Runners.

Click here to read the rest of this article from The Scooter Review