Econogo Scooters Walthamstow
Scooters are an eco-friendly, cost-saving mode of transportation that many people are turning to as an alternative to owning a car. Here you'll find additional information on Econogo scooters as well as local companies and providers that may help you in your search.
---
Scootech (Goldcore Engineering Ltd)
020 8983 4111
425-427 Roman Road,Bow
London
Bacons Motor Cycles
0208 252 6020
739 Eastern Avenue
Ilford
Motoden Suzuki
Sales: 0207 241 6363 Service: 0207 241 3333
507 Kingsland Road
London
Jack Nice
0208520 1920
129-133 Grove Rd
Walthamstow
Yamato Engine Services Ltd.
020-8443-4443
Cabot Works
Enfield
Scooterden
020 7241 1111
507 Kingsland Road
London
Scooterden (Hornsey)
020 8341 4142
57 Tottenham Lane
London
Motoden
0207 688 8888(Sales) 0207 688 8889(Serv)
41-49 Kingsland Road Islington
London
Abacus Motor Cycles
0208523 4007
58b St Andrews Rd
Walthamstow
C S M Motorcycle Training
08705777777
3 Mirage Centre
Wembley
Econogo Yogo
Wednesday, 14 April 2010 23:04
Econogo Yogo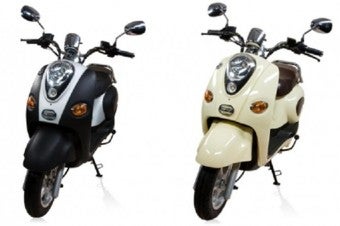 The silliest name in the world? probably! but this looks to be one of the first electric scooters that might actually make some sense. The styling looks remarkably like a SYM Mio to me and if they have just borrowed the chassis and plastic from that bike then this would be a great base. There seem to be two models on the books a 50cc and 100cc equivalent and it is the second of those that piques my interest. Then my interest disappeared when I converted the top speed of just 38mph (or 61kph) which is the speed a regular 50cc machine should do... and a 22 mile (35km) range, which is not so bad . So really the only new and innovative thing about Yogo is the removable battery, this is a good idea allowing you to dispense with an extension cord for charging, especially if the bike lives outside or on the street. The short, one hour charge time is a good idea. In short as a 50cc scooter replacement the bigger Yogo might well do the trick.

Click here to read the rest of this article from The Scooter Review