Econogo Scooters Croydon
Scooters are an eco-friendly, cost-saving mode of transportation that many people are turning to as an alternative to owning a car. Here you'll find additional information on Econogo scooters as well as local companies and providers that may help you in your search.
---
Two Wheels Ahead
0208 681 5050
173 Brighton Road
Croydon
Lamba Motorcycles
0208 647 4851
118-132 High Street
Carshalton
Ahsan Scooters Ltd
0208 677 9995
408 Streatham High Road
London
Hartgate Motorcycles
020 8648-5395
24-28 Upper Green East
Mitcham
Croydon Scooters
020 8683 2525
39 Whitehorse Rd
Croydon
In Moto Ltd
0208 689 2341
187 St James Road
Croydon
Corsa Italiana Ltd
0208 540 7155
5 Walpole Mews, Walpole Road
London
Premier Motorcycles Ltd
0208 777 8040
131-133 High Street
West Wickham
Doble Motorcycles
020 8668-8851
86-90 & 103 Brighton Road
Coulsdon
Rhino Dyno
020-8665-0488
79 Gloucester Road
Croydon
Econogo Yogo
Wednesday, 14 April 2010 23:04
Econogo Yogo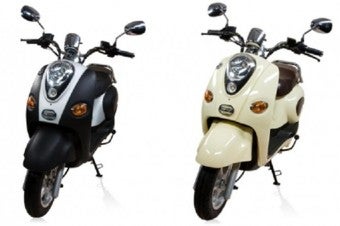 The silliest name in the world? probably! but this looks to be one of the first electric scooters that might actually make some sense. The styling looks remarkably like a SYM Mio to me and if they have just borrowed the chassis and plastic from that bike then this would be a great base. There seem to be two models on the books a 50cc and 100cc equivalent and it is the second of those that piques my interest. Then my interest disappeared when I converted the top speed of just 38mph (or 61kph) which is the speed a regular 50cc machine should do... and a 22 mile (35km) range, which is not so bad . So really the only new and innovative thing about Yogo is the removable battery, this is a good idea allowing you to dispense with an extension cord for charging, especially if the bike lives outside or on the street. The short, one hour charge time is a good idea. In short as a 50cc scooter replacement the bigger Yogo might well do the trick.

Click here to read the rest of this article from The Scooter Review