EVT Scooters Derbyshire
Scooters are an eco-friendly, cost-saving mode of transportation that many people are turning to as an alternative to owning a car. Read through the following articles to learn more about EVT scooters and find local companies and providers who can help you find what you're looking for.
---
David Sykes Superbikes
0191 5864589
Peterlee
Horden
Arnold'S Motorcycles (Burton On Trent)
01283 565154
Burton On Trent
Roy Jervis And Co Ltd
01773 743358
The Bike Shop Chapel Street
Ripley
Bob Minion Ltd
01332-342064
156-160 London Road
Derby
Smalley Cross Ltd
01332 881 882
Smalley Cross Road
Derby
John Carr
01773 520518
Unit 1B Monk Road Ind Est
Alfreton
Bikers Motorcyces Ltd
01283 558282
Unit 11 Boardmans Ind Estate
Swadlincote
Moby Dick Scooters Ltd
01332 208 700
1-2 Ascot Drive
Derby
EVT 168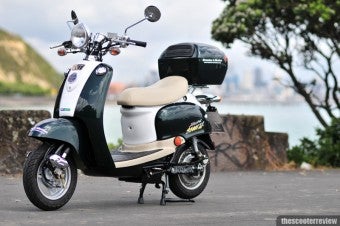 A scooter that uses no petrol, runs virtually silent and can kill you with a bolt of pure lightning... like some sort of ninja, wizard camel that comes to kill you in the dead of night... This I have to ride!
Ok I made up the lightning business but I did eventually get the chance to spend a few days riding the EVT electric scooter, and I my first impressions are good, it's like no scooter I have ever ridden before. The first thing that got me is there is no start button or kick start. Put the key in and turn it one click to the right, nothing happens - there is no idle - but she's ready to go. Then turn the throttle and silently move off down the road. It looks just like a normal scooter, there are brakes, wheels, everything seems to be where it should be, I don't have to spend hours learning to ride it. In fact, it's hard to tell any difference… Well the exhaust pipe is missing but not too many riders will miss that. The model tested is designed to compete within the 50cc scooter market. It produces 2kw just like most of the 50cc models but the EVT does this with zero emissions (near the rider) via a series of four sealed lead-acid batteries mounted under the seat.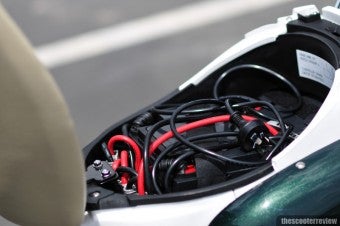 The scooter is almost silent, the only sound is a quiet electric whirrr when you get up some speed, but the noise of the wind is about the same volume. The actual motor is mounted inside the rear wheel. This placement leaves enough space under the seat for the batteries, but there are so many that all the under seat storage is used. Thankfully a rear box is available (although at an extra cost) for your helmet and other storage needs. Also included hidden away under the seat is the charging unit, including (of course) a small power cable to plug into any standard electrical outlet you can find.
Click here to read the rest of this article from The Scooter Review