Derbi Scooters Suffolk
Scooters are an eco-friendly, cost-saving mode of transportation that many people are turning to as an alternative to owning a car. Continue reading to learn more about Derbi scooters and get information on local companies and providers that will help you in your search.
---
Davey Bros Motorcycles Ltd
01473 254488
98 Alan Road
Ipswich
Bct
01638 716220
Bury St Edmunds
Mildenhall
Maxmoto
01284 701 170
1B Barton Road Trading Est, Barton Road
Bury St Edmunds
Felixstowe Motorcycle Centre
01394 672005
5 Bridge Road
Felixstowe
Mototechniks Ltd
01449 775775
Mill Street
Stowupland
Lings Honda
01379-851090
Honda Corner Mendham Lane
Harleston
Brad Farm Machinery Ltd
01473 827060
Ipswich
Hadleigh
P.F.K. Ling Ltd
01473-272789
713 Foxhall Road
Ipswich
Felixstowe Motorcycles
01394 672 005
5 Bridge Road
Felixstowe
Orwell Motorcycles Ltd
01473 257401
200 Ranelagh Road
Ipswich
Derbi Boulevard 125cc and 50cc
Tuesday, 28 April 2009 10:10
Derbi Boulevard 125cc and 50cc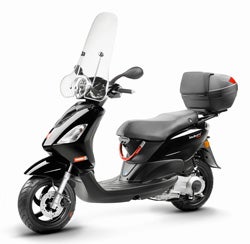 Derbi has introduced the successor of the first generation's Boulevard: the new Derbi Boulevard 125 4S.
Its had a small facelift make it look more modern. The most obvious change has been made at the front, where the headlight, formerly integrated in the lower part of the fairing shield, has been raised to the handlebar and is located in front of the instrument panel.

In its new incarnation, the Derbi Boulevard will be available in two colours: white and black, both with all the lower plastic and tires in black. The Boulevard 125 4S is already available in all official Derbi Dealers.
Engine  is a air cooled, single cylinder 4 Stroke running a disc front brake and a sad old drum in the rear. TheScooterReview can't find any info to point to any mechical changes from the first generation.
The arrival of a 50cc air-cooled, two-stroke engine is the notable new features in the Boulevard 2009 range. Its a pretty good looking little scooter running 12inch wheels. Weighing in at 99kgs we can't see her being the fastest 50 out there, but the build quality looks to be of a high standard. We'll review the Derbi shortly, and give you all the details on both the models.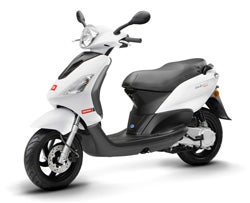 Click here to read the rest of this article from The Scooter Review
Derbi Rambla
Monday, 17 March 2008 20:02
Derbi Rambla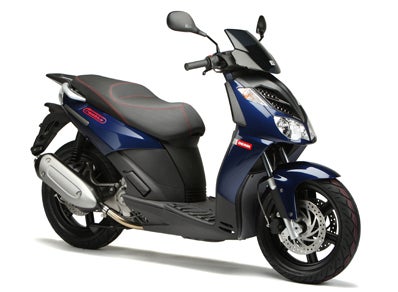 Derbi's Rambla 125 and 250cc scooters are getting closer to what we here at TSR reckon scooters should be... especially the 250 version. Using the reliable Piaggio 250cc engine which makes a handy 22 odd horsepower and reducing weight to a more user (and acceleration) friendly 147kgs this promises to be a pretty exciting ride.
Add to that the fact that there are disc brakes front and rear, 15" wheels and modern styling we can't wait to test this beast.
For more detail and some PR from Derbi then keep reading....
Below is the Derbi Press Release:
The New Urban Seduction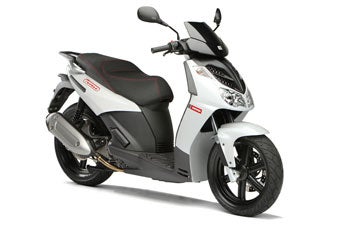 With the new Derbi Rambla 125 / 250i scooter, Derbi returns to the city. With all the strength and sporting vigour that characterizes this legendary make, founded in Barcelona in 1922. With the instinct for urban reliability offered by the technology of the Piaggio engine. Now, the urban asphalt belongs to Derbi.
Derbi Rambla 125 / 250i represents an advanced, state-of-the-art style with all the typical sportiness of the Spanish brand.
Every urbanite has a favourite corner of the city, a place to escape to or take someone special, to feel free. Finding this place and enjoying it fully is the authentic urban seduction. To live this intensely, Derbi proposes a combination of dynamism, technological innovation, sporting character and reliability: the new Derbi Rambla 125 / 250i scooter.
With technical features chosen with the youngest and most dynamic segment in mind, the Derbi Rambla 125 / 250i is the perfect answer to the urban combination of pleasure and practicality.
In the Derbi Rambla, its looks and technology go hand in hand. The joint work of engineers and designers has enabled the creation of a vehicle that seamlessly combines a sophisticated, advanced and comfortable design with high levels of robustness and safety: the definitive sum of Derbi's sporting spirit with all the technical capabilities of the Piaggio engine.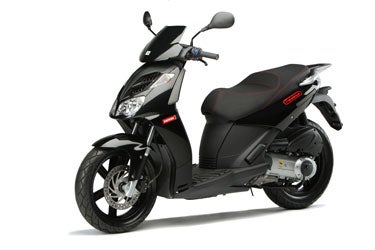 Among its main characteristics is a tough, highly resistant tubular steel chassis guaranteeing maximum stability, large diameter (15") aluminium wheels and wide tyres, which all go to give this vehicle a sporting and very up-to-date image. This performance guarantees comfortable, easy and safe ride in urban traffic, and on all asphalted surfaces. That is why it is the ideal scooter for going to school, travelling to work, for pleasure adventures, and even for going on longer trip.
Other functional aspects worthy of note included a low-slung seat (775mm), suitable for all users, and a generous load capacity. The seat is made of non-slip material which is narrower at the front for improved stability when stationary; its load capacity is explained by a large interior compartment under the seat, where the jet helmet can be stored, a gl...
Click here to read the rest of this article from The Scooter Review
Derbi Rambla 300i
Thursday, 29 April 2010 22:22
Derbi Rambla 300i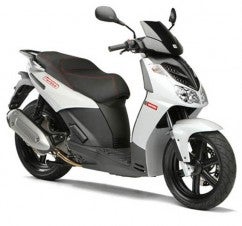 There has been a distinct lack of gasoline in my last few news updates so today I decided to run with two new 300cc gas engined bikes. first of all is the very cool looking Derbi Rambla 300i. The Spanish portion of Piaggo is the first of two machines that I have just noticed are using the "300cc" engine originally built for the Vespa GTS 300
If you want a more modern styled scooter than the Vespa but still want the 23 odd HP with presumably (it sounds like they have aimed for a more sporty ride) better handling then the big Rambla may be worth a look.
Besides... how could you not want a scooter that is "Designed for young city dwellers, the Derbi Rambla is bold like the variety of styles crowding our streets; it is flexible and sparkling like modern nightlife, but is also practical, comfortable and safe, perfect for winning everyday challenges in traffic."
What?!
Anyway the specs look pretty good, they are listed below but at a reasonable (reasonably heavy! Ed.) 146 kgs and with 15" wheels this should be a good urban and freeway crossover device.
Engine Single cylinder four-stroke 4V EURO 3
Bore x stroke 75x63 mm
Displacement 278,3 cc
Power 22,5 HP / 7250 r.p.m.
Fuel Supply Electronic injection
Cooling System Liquid
Starting System Electric
Compression Ratio 11,5:1
Lubrication System Mechanical oil pump
Clutch Centrifugal
Gear Box Automatic
Frame Tubular steel cradle
Front Suspension Ø35 hidraulic fork 100mm travel
Rear suspension Double hydraulic shock absorber with adjustable preload. Wheel travel 80 mm
Front brake Disk Ø 260 mm
Rear brake Disk Ø 220 mm
Tyres Front: 120/70x15" Rear: 130/80 x 15"
Maximum Length 1.985 mm
Seat height 775 mm
Maximum width 880 mm
Wheelbase 1.360 mm
Fuel Tank 7,5 L (reserve: 1,5L)
Dry weight 146 kg



Click here to read the rest of this article from The Scooter Review