Daelim Scooters Glasgow
Scooters are an eco-friendly, cost-saving mode of transportation that many people are turning to as an alternative to owning a car. Below you'll find related articles as well as local companies and providers that will help you in your search for Daelim scooters.
---
Mickey Oates Motorcycles
0141 332 7374
19 North Canalbank Street
Glasgow
Atv Adventure Xtreme Ltd
08456 444900
100 Union Street
Glasgow
Avuss
0141 848 5775
Greenhill Business Park, Greenhill
Paisley
Gordon Agri Scotland Ltd
01360 661001
Near Glasgow
Croftamie
Kypeside Country Capers Ltd
01357 523834
Kypeside Farm
Lesmahagow
Victor Devine & Co
0141 225 8100
60 Hydepark Street
Glasgow
Moto Ecosse
0141 641 1199
13-16 Flemington Industrial Estate
Glasgow
Moto Ecosse Ltd
0141 641 1199
16 Flemington Industrial Estate,Hamilton Raod
Glasgow
Robert Campbell
01357 440316 / 07767 636 375
Strathaven
Ryelands
Stoddart'S Motorcycles
01631-564176
4 Soroba Road
Oban
Daelim Cordi Review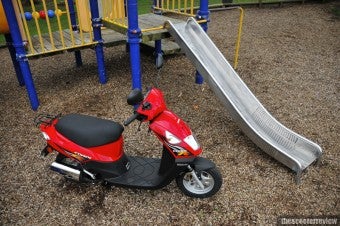 If you just want a quick summary of Daelim Cordi, here it is. It's small light and about average for a 50cc scooter. Now if you want a bit more detail read on…be warned given the Cordi is not the most exciting scooter ever made I 'may' go a little off topic.
Have you ever wanted a scooter that would fit in a backpack? I have, I mean think about it. You jump off the ferry open the backpack and wammo…seconds later you're scootering along…perfect. With the Daelim Cordi it's fairly unlikely but equally it is plausible. If the lads at Mythbusters did a show on scooter backpacking they'd have to agree. Okay…the Cordi wouldn't fit in a regular backpack and at 77kgs it wouldn't be something you'd want to carry for very long. Oh and you'd look like a complete idiot carrying it, but… if you'd didn't mind straining you're back, looking like a twat and possibly setting yourself on fire from a hot exhaust this is the scooter backpacking model you've always dreamed of. In fairness I'd have to say that if you're dreaming of scooters that will fit in a backpack…you really need to get out more. Then again we can't really control what we dream about, I once had a dream about a large spiny Cuttlefish having 'relations' with an ant eater…and I'm not even 'in to' Cuttlefish, I much prefer a Rock Cod; now that's a hot fish.
Click here to read the rest of this article from The Scooter Review