CPI Scooters Leicestershire
Scooters are an eco-friendly, cost-saving mode of transportation that many people are turning to as an alternative to owning a car. Read through the following articles to learn more about CPI scooters and find local companies and providers who can help you find what you're looking for.
---
Redcar Motorcycles
0116 266 1637
2 Redcar Road
Leicester
Bats
01572 756552
Unit 7
Oakham
Peugeot Scooter Services
0116 2862224
Unit 1 Macks Garage Leicester Rd Enderby
Leicester
Rat Race Motorcycles
01509 813895
Brookside Works Sileby Rd
Barrow On Soar
Drayton Croft Motorcycles
0044 0116 262 16
52 Fosse Road North
Leicester
Castledines
0116 278 2544
South Wigston
Leicester
Grand Prix Scooters
Tel:01162 357595
35 Boston Road
Leicester
Coalville Motorcycles
01530 832179
28 Belvoir Road
Coalville
Drayton Croft Motorcycles T/A Piaggio Leicester
0116 262 1664
52 Fosse Road North
Leicester
CPI GTR Review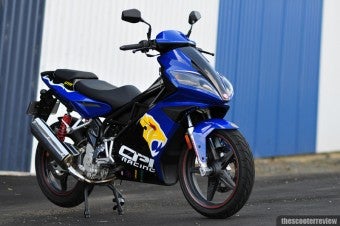 So, do you ride an all singing all dancing 1 million horsepower motorcycle on weekends, but want something for your daily commute? Or perhaps you are an urban Valentino Rossi and love nothing more than carving up traffic on the inner city racetrack. Maybe you are just looking for a modern, adult machine that won't blow the bank account out of the water…If you fit any of these criteria (and a few beyond) the CPI GTR is the machine for you.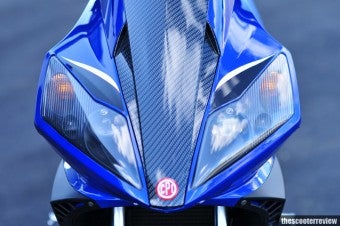 What you get with the GTR is… well, a lot. Although I must admit the name is misleading…you certainly don't get any sort of "Gran Tourismo" this is not a bike for long distance, comfortable cruising. A more suitable name would be something more along the lines of "R" or even "hyper race speed style extreme"… probably wouldn't fit on the side of the bike but you get the idea. The GTR is built for performance, not for comfort. First of all it is incredibly stiff with a ladder type (think Ducati) chassis construction and a non step-through design. This chassis rigidity is great for aggressive riding… if fact CPI have managed to make a less twisty chassis than many motorcycles and it is light years ahead of most, if not all other scooters.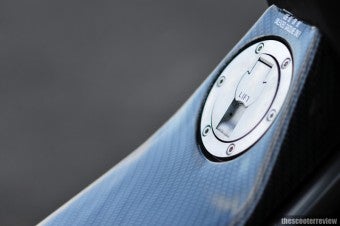 The next link in the performance chain is suspension and wheels, the suspension as you would expect is tuned with performance over comfort in mind the front features hydraulic forks and the rear is an oil pneumatic unit with a preload adjustment. The Wheels are probably the single largest unusual and standout decision in the design of the GTR… 17" wheels are seldom seen on anything other than motorcycles, yet here we have them. Often the downside of such a large wheel option on a scooter results in very sluggish steering response and direction change… the GTR's set-up somehow manages to bypass this problem. Obviously direction change and turning circle are less than what you would see on a 10" wheel equipped machine but still probably as good as most 13" arrangements with the marked advantage of incredible corner stability, fairly hard cornering at 75kph (46mph) didn't phase it in the least.
Click here to read the rest of this article from The Scooter Review