BMW Scooters Suffolk
Scooters are an eco-friendly, cost-saving mode of transportation that many people are turning to as an alternative to owning a car. Here you'll find additional information on BMW scooters as well as local companies and providers that may help you in your search.
---
Brad Farm Machinery Ltd
01473 827060
Ipswich
Hadleigh
Felixstowe Motorcycles
01394 672 005
5 Bridge Road
Felixstowe
Orwell Motorcycles Ltd
01473 257401
200 Ranelagh Road
Ipswich
P.F.K. Ling Ltd
01473-272789
713 Foxhall Road
Ipswich
Lings Honda
01379-851090
Honda Corner Mendham Lane
Harleston
Mototechniks Ltd
01449 775775
Mill Street
Stowupland
Davey Bros Motorcycles Ltd
01473 254488
98 Alan Road
Ipswich
Felixstowe Motorcycle Centre
01394 672005
5 Bridge Road
Felixstowe
Bct
01638 716220
Bury St Edmunds
Mildenhall
Maxmoto
01284 701 170
1B Barton Road Trading Est, Barton Road
Bury St Edmunds
BMW Maxi Scooters
Monday, 11 August 2008 21:55
BMW Maxi Scooters
Well it looks like we may be seeing a range of Maxi scooters from BMW. It has been a while since we have seen anything from BMW in the Scooter market. A sneaky look from Spanish mag "Solo Moto" shows some Quad bike sourced Rotax V-Twins that are supposedly being reworked to power a new range of Maxis.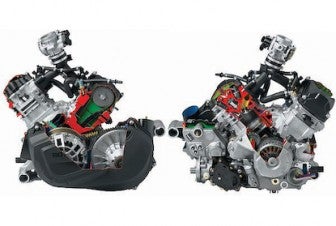 With the engines ranging from 500 to 800 cc's and power figures from the Euro standard 34hp up to a GP800 targeting 75hp it will be interesting to see what they come to market with. Unfortunately with a projected release date of 2010 they may have to rework those power figures to stay at the pointy end of the Maxi market. We can only hope they will avoid roofs and seatbelts with the new range.

Click here to read the rest of this article from The Scooter Review