BMW Scooters Mitcham
Scooters are an eco-friendly, cost-saving mode of transportation that many people are turning to as an alternative to owning a car. Here you'll find additional information on BMW scooters as well as local companies and providers that may help you in your search.
---
Hartgate Motorcycles
020 8648-5395
24-28 Upper Green East
Mitcham
Ahsan Scooters Ltd
0208 677 9995
408 Streatham High Road
London
Lamba Motorcycles
0208 647 4851
118-132 High Street
Carshalton
Bmg Scooters (Fulham)
0207 736 0770
96 New Kings Road
London
Chelsea Solutions
0207 351 7400
49 New Kings Road
London
Corsa Italiana Ltd
0208 540 7155
5 Walpole Mews, Walpole Road
London
Wheel Power Bike Ctr Ltd
0208 543 0321
264 Grand Drive
London
In Moto Ltd
0208 689 2341
187 St James Road
Croydon
My Scooter And Me Ltd
0207 3849534
Arch 20 Munster Road
Putney Bridge
Ewell Motorcycles And Scooter Centre Ltd
0208 786 7161
6-7 Castle Parade,Ewell By Pass
Epsom
BMW Maxi Scooters
Monday, 11 August 2008 21:55
BMW Maxi Scooters
Well it looks like we may be seeing a range of Maxi scooters from BMW. It has been a while since we have seen anything from BMW in the Scooter market. A sneaky look from Spanish mag "Solo Moto" shows some Quad bike sourced Rotax V-Twins that are supposedly being reworked to power a new range of Maxis.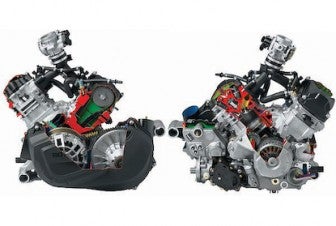 With the engines ranging from 500 to 800 cc's and power figures from the Euro standard 34hp up to a GP800 targeting 75hp it will be interesting to see what they come to market with. Unfortunately with a projected release date of 2010 they may have to rework those power figures to stay at the pointy end of the Maxi market. We can only hope they will avoid roofs and seatbelts with the new range.

Click here to read the rest of this article from The Scooter Review