BMW Scooters Islington
Scooters are an eco-friendly, cost-saving mode of transportation that many people are turning to as an alternative to owning a car. Here you'll find additional information on BMW scooters as well as local companies and providers that may help you in your search.
---
Motoden
0207 688 8888(Sales) 0207 688 8889(Serv)
41-49 Kingsland Road Islington
London
Scootech-City
0207 404 3939
73 Clerkenwell Road
London
Scooterden
020 7241 1111
507 Kingsland Road
London
Metropolis M/C'S
0207 793 9313
62 Albert Embankment
London
Metropolis (Vauxhall)
0207 793 9313
60 - 61 Albert Embankment
Vauxhall
Motoden Suzuki
Sales: 0207 241 6363 Service: 0207 241 3333
507 Kingsland Road
London
Geo Moto Limited - Camden
0207 267 1557
1A Hawley Road
Camden
Lazer Motorcycles And Scooters Ltd
0207 267 3321
1 Belmont Street
Chalk Farm
London Scooters Ltd
0207 378 1667
13 Crucifix Lane
London Bridge
Scooterpower
020 7794 4977
56-58 Fortune Green Road
London
BMW Maxi Scooters
Monday, 11 August 2008 21:55
BMW Maxi Scooters
Well it looks like we may be seeing a range of Maxi scooters from BMW. It has been a while since we have seen anything from BMW in the Scooter market. A sneaky look from Spanish mag "Solo Moto" shows some Quad bike sourced Rotax V-Twins that are supposedly being reworked to power a new range of Maxis.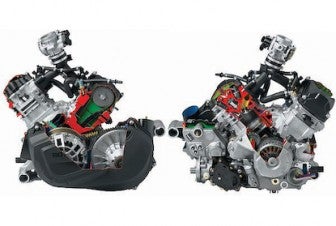 With the engines ranging from 500 to 800 cc's and power figures from the Euro standard 34hp up to a GP800 targeting 75hp it will be interesting to see what they come to market with. Unfortunately with a projected release date of 2010 they may have to rework those power figures to stay at the pointy end of the Maxi market. We can only hope they will avoid roofs and seatbelts with the new range.

Click here to read the rest of this article from The Scooter Review