BMW Scooters Ealing
Scooters are an eco-friendly, cost-saving mode of transportation that many people are turning to as an alternative to owning a car. Here you'll find additional information on BMW scooters as well as local companies and providers that may help you in your search.
---
Get Bike
0208 3263366
226 Northfield Avenue
London
Motorbike Warehouse (Uk) Ltd
0208 385 0566
164 Watford Road
Wembley
Harry Nash (Hogarth)
0208 748 2837
391 King Street
London
Bmg Scooters (Richmond)
020 8878 8121
416 Upper Richmond Road West
London
Scootercity (Wembley) Ltd
0208 9041345
18 Grand Parade Forty Avenue
Wembley
Chiswick Honda
020 8996 8100
4 Power Road
Chiswick
Harry Nash Motorcycles And Scooters
0208 7482837
391 King Street
Hammersmith
Centro London Ltd
0208 830 1000
46
London
Scooter City (Wembley) Limited
020 8904 1345
18 Grand Parade,Forty Avenue
Wembley
Bmg Motorcycles
0208 878 8121
416 Upper Richmond Road West
London
BMW Maxi Scooters
Monday, 11 August 2008 21:55
BMW Maxi Scooters
Well it looks like we may be seeing a range of Maxi scooters from BMW. It has been a while since we have seen anything from BMW in the Scooter market. A sneaky look from Spanish mag "Solo Moto" shows some Quad bike sourced Rotax V-Twins that are supposedly being reworked to power a new range of Maxis.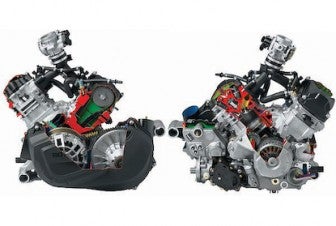 With the engines ranging from 500 to 800 cc's and power figures from the Euro standard 34hp up to a GP800 targeting 75hp it will be interesting to see what they come to market with. Unfortunately with a projected release date of 2010 they may have to rework those power figures to stay at the pointy end of the Maxi market. We can only hope they will avoid roofs and seatbelts with the new range.

Click here to read the rest of this article from The Scooter Review