BMW Scooters Birmingham
Scooters are an eco-friendly, cost-saving mode of transportation that many people are turning to as an alternative to owning a car. Here you'll find additional information on BMW scooters as well as local companies and providers that may help you in your search.
---
Gran Sport Autoscooters Ltd
0121 773 0706
2 Bowyer Street,Bordesley
Birmingham
Sherwood Motorcycles
01217 772499
Birmingham
Hall Green
Chinese Bikes Direct
(121) 552-6644
1 Park Street
Oldbury
Bikers World
0121 747 1284
Bikers Clearance World Ltd T/A Lichfield Rd Water Orton
Birmingham
Speedaway M/C'S
0121 559 1270
78A Oldbury Road, Blackheath
Warley
J.C. Motorcycles
0121 707 4879
367-371 Stockfield Road,Yardley
Birmingham
Dcr Motorcycles
0121 3567601
Unit 2, Howard Centre
Birmingham
Streetbike
0121 506 6800
Streetbike Corner Mucklow Hill Halesowen
Birmingham
Redline Motorcycles
0121 4757599
1179 Bristol Road South Northfield
Birmingham
Bikers World Motorcycles
0121 314 5883
Lichfield Road, Coleshill
Birmingham
BMW Maxi Scooters
Monday, 11 August 2008 21:55
BMW Maxi Scooters
Well it looks like we may be seeing a range of Maxi scooters from BMW. It has been a while since we have seen anything from BMW in the Scooter market. A sneaky look from Spanish mag "Solo Moto" shows some Quad bike sourced Rotax V-Twins that are supposedly being reworked to power a new range of Maxis.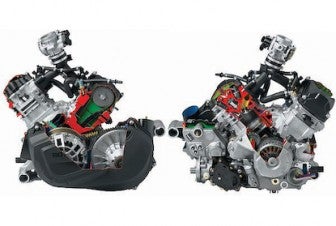 With the engines ranging from 500 to 800 cc's and power figures from the Euro standard 34hp up to a GP800 targeting 75hp it will be interesting to see what they come to market with. Unfortunately with a projected release date of 2010 they may have to rework those power figures to stay at the pointy end of the Maxi market. We can only hope they will avoid roofs and seatbelts with the new range.

Click here to read the rest of this article from The Scooter Review