Aprilia Scooters Mitcham
Scooters are an eco-friendly, cost-saving mode of transportation that many people are turning to as an alternative to owning a car. Below you'll find related articles as well as local companies and providers that will help you in your search for Aprilia scooters.
---
Corsa Italiana Ltd
0208 540 7155
5 Walpole Mews, Walpole Road
London
Wheel Power Bike Ctr Ltd
0208 543 0321
264 Grand Drive
London
Tamara Cycles
20 Upper Green East
Mitcham
Ahsan Scooters Ltd
0208 677 9995
408 Streatham High Road
London
In Moto Ltd
0208 689 2341
187 St James Road
Croydon
Hartgate Motor Cycles Ltd.
020-86408862
18-24 Upper Green East
Mitcham
Aprilia Atlantic 300
Thursday, 29 April 2010 23:04
Aprilia Atlantic 300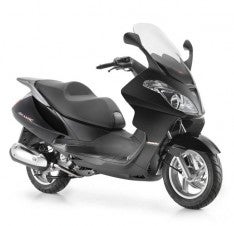 As promised, part two of my all gas, all 300cc news day. Aprilia have announced their scooter based around the 300cc Vespa engine, this one isn't quite as svelte as the Derbi with styling a with more of a bent toward maxi scooters than regular mid sized machines. The press release talks a lot about a "zippy" engine and great torque and comfort... it fails to mention the weight anywhere which I suspect means it is a bit on the tubby side.
The specs are listed below and seem to be pretty decent especially in the handling and stopping department with proper discs front and rear, 13" wheels should be a fairly good fit for the bike but when you are competing with the venerable Honda SH300 I would have thought a bigger wheel would have made more sense, especially with a bigger engined machine allowing more access to the highway...
APRILIA ATLANTIC SPRINT 300 Specifications

Engine type Single-cylinder, four-stroke, four-valve (single overhead camshaft - SOHC), liquid-cooled
Engine capacity 278.3 cc
Compression ratio 11.5:1
Max. Power 16.4 kW (22.4 HP) at 7500 rpm
Max. Torque 23.8 Nm at 5750 rpm
Fuel system Electronic injection
Primary drive V belt
Final drive Gearbox
Chassis Double cradle in tubular steel
Front suspension Hydraulic telescopic fork, wheel travel 105mm, stanchion diameter 35mm
Rear suspension Engine unit acting as swingarm, double hydraulic shock with adjustable 5-position preload, wheel travel 90mm.
Brakes: Front: stainless steel disc 240 mm with three piston floating calliper and integral braking system.
Rear: stainless steel disc 190 mm with integral braking system.
Wheel rims Light alloy; front 3.00 x 13", rear 3.50 x 13"
Tyres: Tubeless
Front: 110 / 90 x 13"
Rear: 130 / 70 x 13"
Dimensions Max. length 2085 mm
Max. width 785 mm (at handlebar)
Wheelbase 1480 mm
Tank Capacity 15 litres (including 2 litre reserve)

Click here to read the rest of this article from The Scooter Review
Aprilia Mojito Custom 125 Review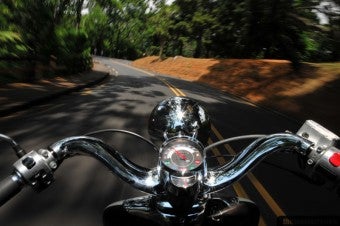 A loud booming voice can be heard for miles and miles…window pains shatter, plates fall from shelves and older buildings crack and disintegrate. The booming voice comes from the Aprilia factory, and the words are clear as day 'MORE PLASTIC…workers scurry in fear as a huge foreman thunders his way around the design office. He grabs a helpless designer and throws him though a plate glass window. The man sits up for a brief second unsure of what just happened then slumps unconscious to the ground. The only thing that will abate his anger is plastic…lots of plastic. 'Give me plastic' he yells as he lifts a small designer from the floor and prepares to rip him in two. Just as the foreman begins to strain and his powerful muscles bulge a designer jumps in front of him and yells for him to stop. The designer slowly lifts a sketch of his new scooter then proclaims in a loud voice…I give you the Mojito Custom…'plastic like the world has never seen'. The foreman lowers the frightened designer and eyes the scooter design before him; tears begin to roll down his cheek…the foreman weeps. He has his plastic…more than enough for any man.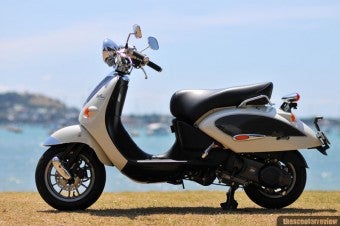 That's how the Aprilia Mojito Custom 125 came about…really it's a true story. I wouldn't believe anything else anyway. How does a 125cc scooter possibly become as massive as the Mojito Custom? The short answer…TERROR. Only by threat of death would anybody try and turn a scooter into a 1950s American car. That was the inspiration behind the Mojito design, 1950s American automobiles. Now just to get something straight here my Aprilia friends…it's a scooter, not a car. Using a two ton automobile for design inspiration is like using an electric blender to tie your shoes…it could work but why on earth would you even try.
Click here to read the rest of this article from The Scooter Review