Adly Scooters Yorkshire
Scooters are an eco-friendly, cost-saving mode of transportation that many people are turning to as an alternative to owning a car. Read through the following articles to learn more about Adly scooters and find local companies and providers who can help you find what you're looking for.
---
Ron Daley Ltd
01226 203 377
46-52 Doncaster Road
Barnsley
Dyrons Motorcycles
0113 249 9208
412 York Road
Leeds
Scootique
01482 588588
91 Spring Bank
Hull
Staiano Motorcycles Ltd
01423 887985
Harrogate
Starbeck
Earnshaws
01484 421232
Manchester Road
Huddersfield
Smc Bikes
0114 252 5454
35-39 Walker Street
Sheffield
Sheffield Scooters Ltd
01246 411 711
Unit 2 Beech Works,Wreakes Lane
Dronfield
Bike Crazy
01484 540 352
234 Lockwood Road
Huddersfield
D C Motorcycles
01484 534248
Future Begin Ltd T/A Alder Street Fartown
Huddersfield
D H Wadsworth & Sons
01653 692244
Malton
York Road Industrial Estate
Adly Silver Fox 50 Review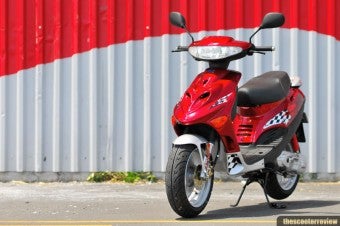 Raised in poverty, thrust into a life of service in the revolutionary underground movement. Later this gentleman warrior turns his counter intelligence and search and destroy techniques toward less noble pursuits. Theft, abduction and murder for hire… He is the Silver Fox, or maybe I'm thinking of Carlos the Jackal… or perhaps I am just confused… at any rate Silver Fox is a very odd name for this 50cc machine from Adly. Especially considering the fact that it looks more like a miniaturised, two-wheeled version of a 1990's American muscle car with its 'ram air bonnet scoop' styled frontal area.
Putting the unusual name aside for just a moment I fired up the Adly Silver Fox it had only 4km on the clock, brand spanking new! As I motored down the road, I took my time to bed in the brakes, and scrub the slippery gleam off the tyres. Once that was done and the engine was warm I began putting the bike through its paces and immediately started to enjoy myself.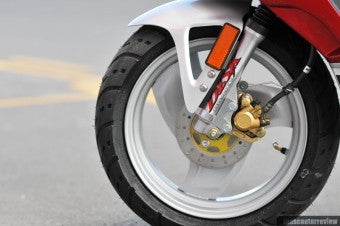 The first thing I noticed was this scooters footprint. The wheels and attached tyres were huge! Most 50cc scooters have 10 inch wheels, the Silver Fox has 13 inch monsters, with the tyres being 130/60-13 front and rear. Having such rubber on a scooter makes a major and noticeable difference to the handling. Braking and cornering performance is fantastic, however do be aware that the larger diameter wheel does mean direction change is some what slower. The Adly is the most stable and predictable 50cc I've ridden and is in fact better than many larger capacity machines. During testing I managed to hit a fairly large pothole during a fast right-hand corner. This same corner usually unsettles most small scooters. Generally it is only other large wheeled machines such as the Honda Dylan 150 that keep their composure. The Adly Fox is fighting well above its weight in terms of handling characteristics.
Click here to read the rest of this article from The Scooter Review