Adly Scooters Suffolk
Scooters are an eco-friendly, cost-saving mode of transportation that many people are turning to as an alternative to owning a car. Read through the following articles to learn more about Adly scooters and find local companies and providers who can help you find what you're looking for.
---
Brad Farm Machinery Ltd
01473 827060
Ipswich
Hadleigh
Orwell Motorcycles Ltd
01473 257401
200 Ranelagh Road
Ipswich
Bct
01638 716220
Bury St Edmunds
Mildenhall
Felixstowe Motorcycle Centre
01394 672005
5 Bridge Road
Felixstowe
P.F.K. Ling Ltd
01473-272789
713 Foxhall Road
Ipswich
Felixstowe Motorcycles
01394 672 005
5 Bridge Road
Felixstowe
Maxmoto
01284 701 170
1B Barton Road Trading Est, Barton Road
Bury St Edmunds
Mototechniks Ltd
01449 775775
Mill Street
Stowupland
Davey Bros Motorcycles Ltd
01473 254488
98 Alan Road
Ipswich
Lings Honda
01379-851090
Honda Corner Mendham Lane
Harleston
Adly Silver Fox 50 Review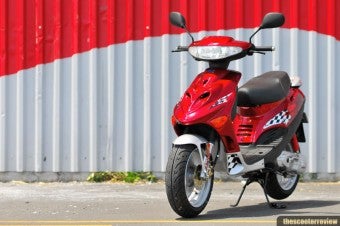 Raised in poverty, thrust into a life of service in the revolutionary underground movement. Later this gentleman warrior turns his counter intelligence and search and destroy techniques toward less noble pursuits. Theft, abduction and murder for hire… He is the Silver Fox, or maybe I'm thinking of Carlos the Jackal… or perhaps I am just confused… at any rate Silver Fox is a very odd name for this 50cc machine from Adly. Especially considering the fact that it looks more like a miniaturised, two-wheeled version of a 1990's American muscle car with its 'ram air bonnet scoop' styled frontal area.
Putting the unusual name aside for just a moment I fired up the Adly Silver Fox it had only 4km on the clock, brand spanking new! As I motored down the road, I took my time to bed in the brakes, and scrub the slippery gleam off the tyres. Once that was done and the engine was warm I began putting the bike through its paces and immediately started to enjoy myself.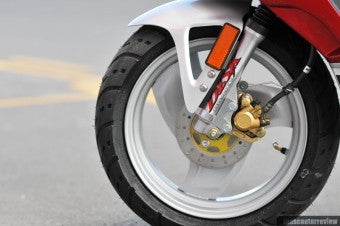 The first thing I noticed was this scooters footprint. The wheels and attached tyres were huge! Most 50cc scooters have 10 inch wheels, the Silver Fox has 13 inch monsters, with the tyres being 130/60-13 front and rear. Having such rubber on a scooter makes a major and noticeable difference to the handling. Braking and cornering performance is fantastic, however do be aware that the larger diameter wheel does mean direction change is some what slower. The Adly is the most stable and predictable 50cc I've ridden and is in fact better than many larger capacity machines. During testing I managed to hit a fairly large pothole during a fast right-hand corner. This same corner usually unsettles most small scooters. Generally it is only other large wheeled machines such as the Honda Dylan 150 that keep their composure. The Adly Fox is fighting well above its weight in terms of handling characteristics.
Click here to read the rest of this article from The Scooter Review